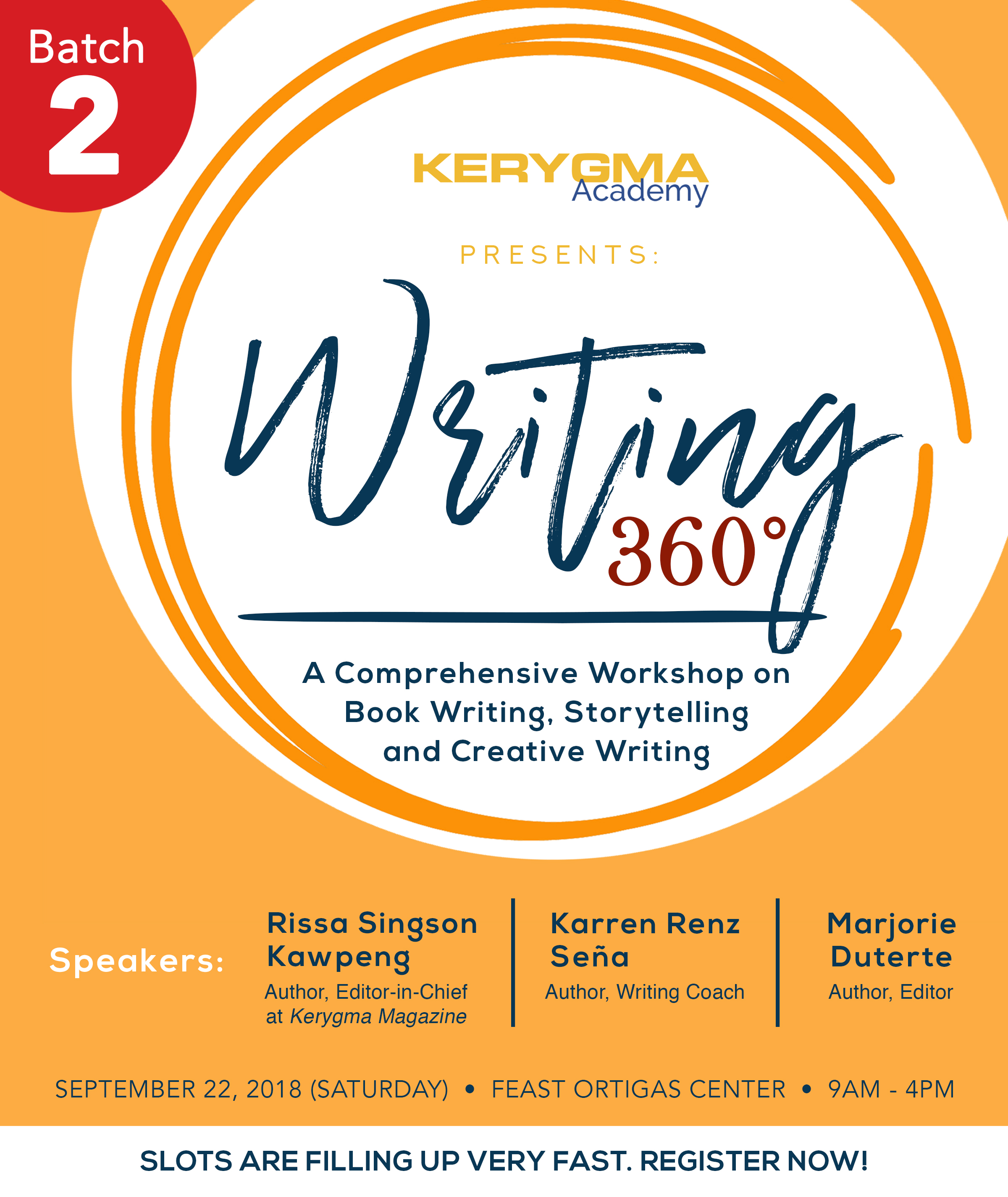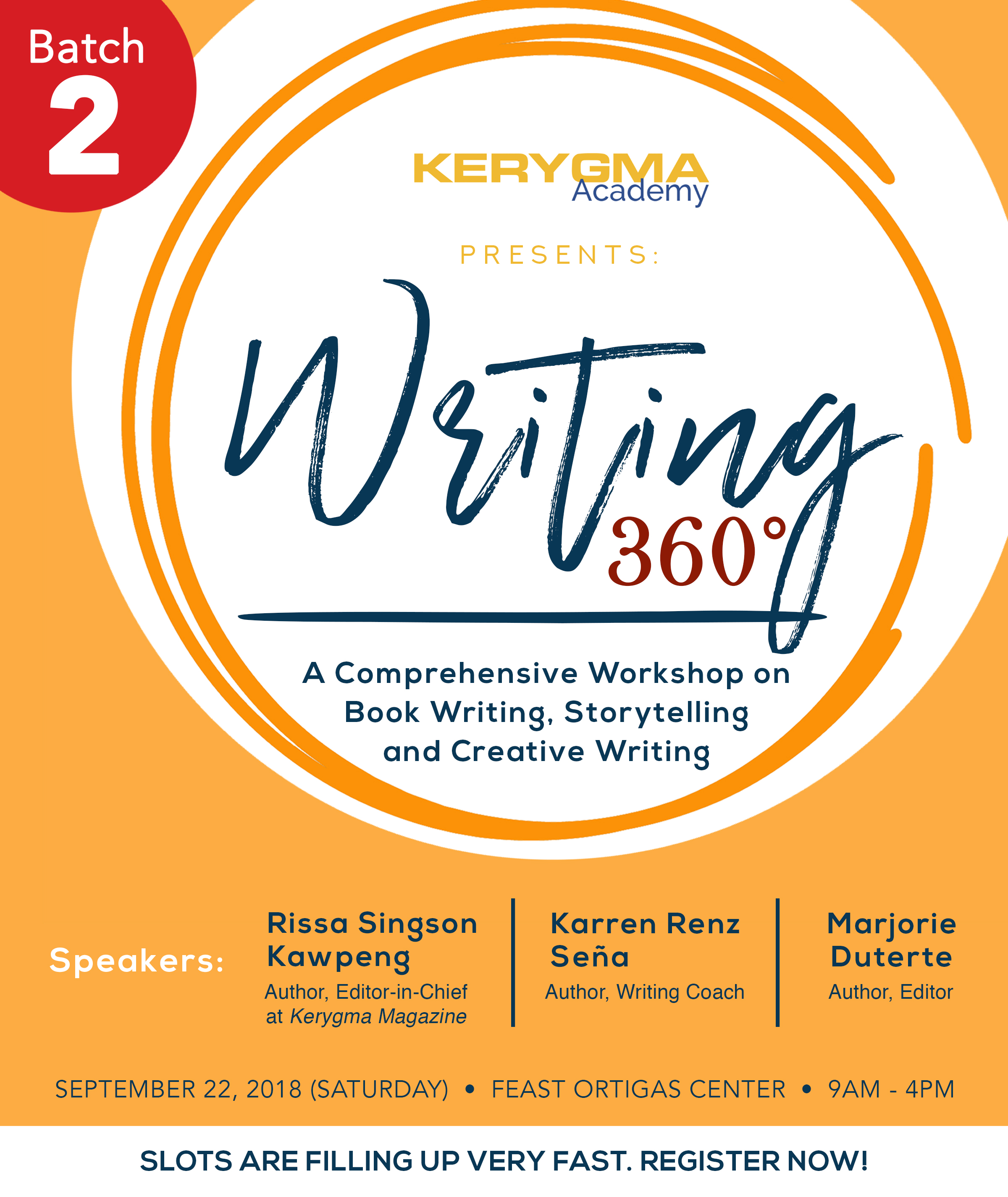 Sat Sep 22, 2018
Kerygma Academy — Writing 360° (Batch 2)
Feast Ortigas Center
By: Kerygma Books
EVENT DESCRIPTION
SLOTS FOR THE FIRST BATCH WAS SOLD OUT IN A SNAP - 
DON'T MISS THIS MUCH-AWAITED WRITING WORKSHOP!
---
HAVE YOU ALWAYS WANTED TO WRITE YOUR BOOK, BUT YOU DON'T KNOW HOW TO START? 

Now's your chance to begin writing that book. We'll teach you how!
Limited slots only! Register now!
---
HERE ARE SOME OF THE THINGS YOU WILL LEARN WHEN YOU JOIN WRITING 360°: A COMPREHENSIVE WORKSHOP ON BOOK WRITING, STORYTELLING, AND CREATIVE WRITING (BATCH 2)
You will learn the secrets ingredients that transform an ordinary book into a "bestseller"
Identify the powerful formula that bestselling novels and blockbuster movies use in their plots, and how to use it on your own book.
Apply powerful techniques on how to beat the "Writer's Block" in five minutes (and realize what "Writer's Block" is just a myth)
And as an added bonus…
You will learn how to write specific books for specific markets.
You will learn the different publishing options for your book.
ONLY SERIOUS STUDENTS PLEASE!
Look, I know you're excited. But this workshop isn't for everyone.
Everyone can be a writer, but not every one succeeds.
It's a harsh truth. Because there are many obstacles that could stand in your way.
In fact, we'll list down these obstacles already:
1. The Workshop requires hard work and commitment.
See, this is not a "feel-good" workshop where you get to listen to amazing authors and then be inspired to write a book.
No. Sorry.
You will be required to write.
And I'm telling you now. Writing is probably the hardest thing you will ever do. You will squeeze that brain until it bleeds. And you will write and write and write — on paper, because our Writing Coach is strict like that — until you get carpal tunnel syndrome.
2. The Workshop requires you to make time. Even after the workshop.
One of the many excuses I hear from people who dream of writing their own books, but have not yet produced a single page, is this:
Bo, I don't have the time.
And I get that. I understand that you're busy. I understand that you probably have work, and chores, and kids, and ministry work, and a thousand other things to do.
So if you don't have the time to write, then this workshop is not for you.
Because you don't wait for the time to write.
You make the time to write.
3. The Workshop is for a Limited Group only
The mentors and coaches want to be hands-on with their teaching. They wouldn't just stand in front of the stage and talk about writing. They would get down and dirty their hands and write with you. They want to check up on you. They want to see those hands flying, and those papers burning in friction.
So this workshop is for a limited number of guests only.
4. This workshop involves money.
Let me break down the cost of learning how to write a book:
A book writing course costs around P20,000 to P200,000.
A book marketing course costs around P15,000.
A creative writing course from a prestigious university costs around P50,000 to P75,000 per term, or per semester.
A three-hour workshop on storytelling would cost you P3,000.
And a single talk from a bestselling author would cost you around P15,000.
But because we want to raise more writers that would bless the world with their powerful message, these three amazing coaches decided to just charge P2495.00 for this entire whole-day event.
---
Friends, I want you to meet three powerful, impactful, and bestselling authors, who will teach you how to write that first book. (And second, and third, and fourth…)
Rissa Singson-Kawpeng is the author of National bestselling books entitled Confessions of an Impatient Bride, Love Handles and Something Happened on my Way to Happy Ever After, among many others. She is also the editor-in-chief of Kerygma magazine, the #1 Catholic inspirational magazine in the country, and also hailed as "The Publishing Miracle" of Asia. She also appears every week in Kape at Salita every Saturday at 5:00AM in DZMM Teleradyo.
Rissa has been writing and editing inspirational and life-changing books for more than 10 years now.She has given talks on how to become a bestselling author, and on this day, Rissa will give you tips on how you can start your first bestselling book. She will help you find your purpose, and she will teach you how you can use books as a means to fulfill your call to communicate that God-given message in your heart.
Marjorie Duterte is the author of Love Yourself as God Loves You. It's a beautiful inspirational book that has made positive impact on the thousands of people who read it. She is an editor, a book writing coach, and a speaker. She is the co-founder of the Soul Spa workshop, as well as the main speaker in Writers' Retreat, which was held in Baguio last April 2018. Marjorie writes for Kerygma and other publications. She is also the author of the novel Harvest Moon, and she will be teaching you how to tell powerful stories that will change the lives of its readers.
Karren Renz Seña is an author, a writing coach, and the founder of the online movement and online writing support group called Project: Beautiful Words, and Her first novel, The Lost Chronicles of Eden: Champions, has been a finalist in the 2016 Filipino Readers Choice Awards. She has more than 10 years' worth of training in Literature and Creative Writing, and has joined several National Creative Writing Workshops where she learned powerful techniques on writing from the country's finest writers. She will be sharing powerful tips and techniques on creative writing, which could help you write a heartfelt, powerful, impactful bestseller.
---
IMPORTANT: Tickets are transferable, but non-refundable and not applicable to be used in succeeding batches.
Event Information
---
Date and Time
Sat Sep 22, 2018 | 09:00 AM - 04:00 PM 2018-09-22 09:00:00 2018-09-22 16:00:00 Asia/Manila Kerygma Academy — Writing 360° (Batch 2) A chance to hear more about Kerygma Academy — Writing 360° (Batch 2) Robinsons Galleria, Lower Ground Floor, Edsa Ortigas Center Kerygma Books digitalsales@shepherdsvoice.com.ph
location
Robinsons Galleria, Lower Ground Floor, Edsa Ortigas Center VIEW MAP
---