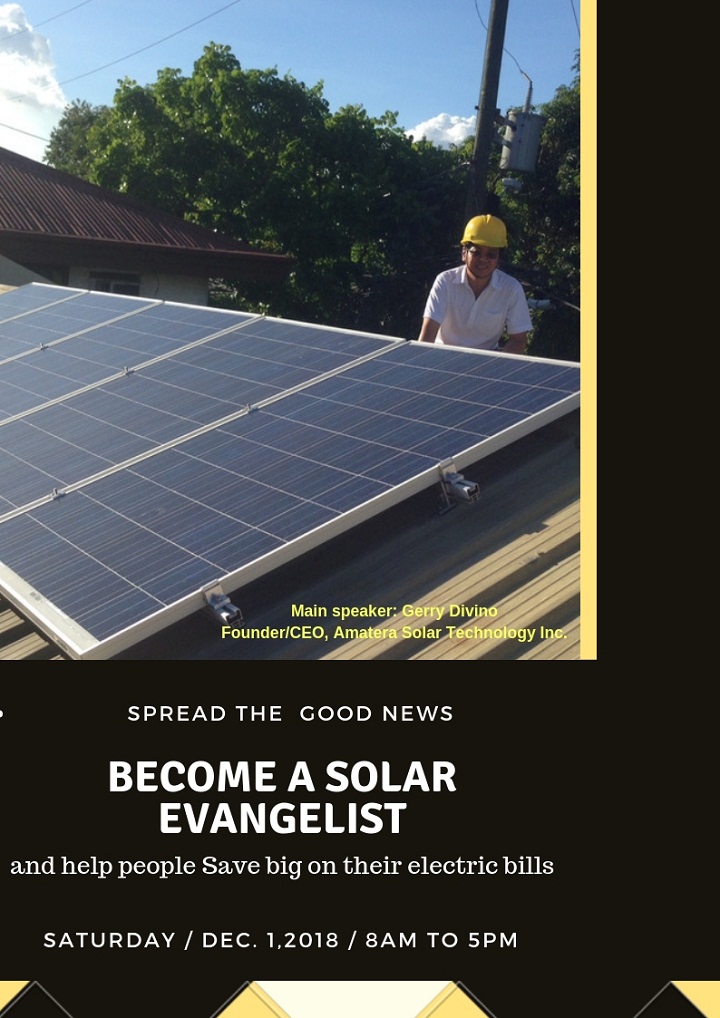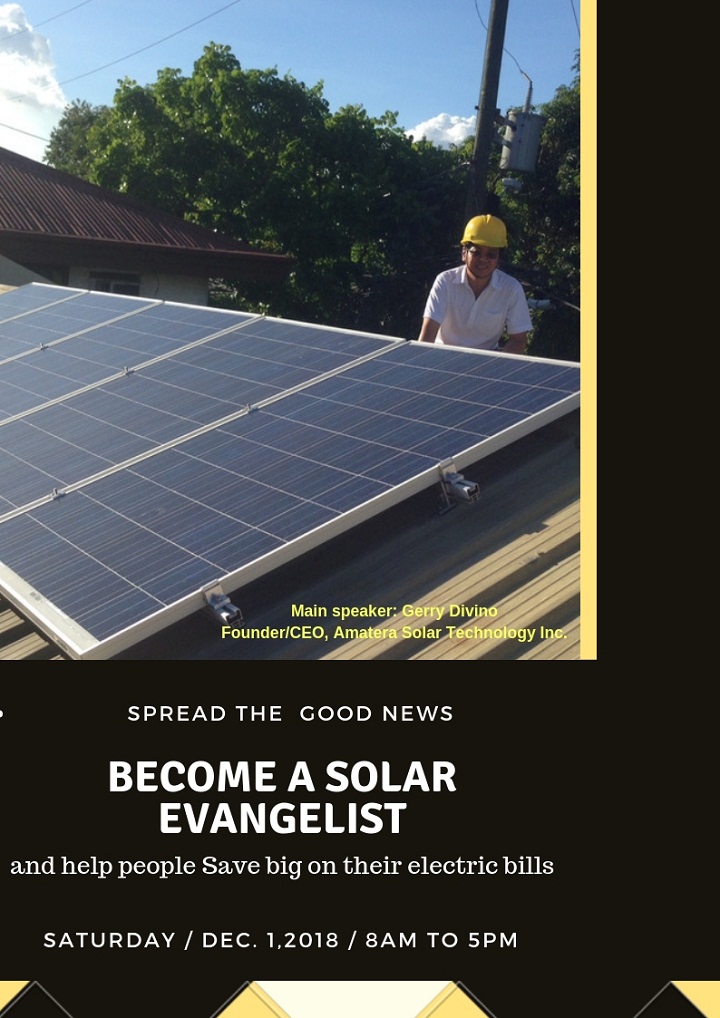 Sat Dec 1, 2018
Become a Solar Evangelist and help people Save through Solar
The Roofdeck
By: Amatera Solar Technology Inc.
EVENT DESCRIPTION
If you would like to invest in yourself after working hard the whole year, this seminar will give you your money's worth if you are interested in solar technology and how it can help us save on electricity and earn on the side.
Our main objectives for the seminar are to give our participants the following:
1) technical foundation to design their own solar power systems for their house or small business establishment in order to get 50% savings off their electric bill.
2) the capacity to earn extra income by becoming a solar evangelist

With the internet and the spread of smartphones, it is easier and harder more than ever to build a following and an audience. It is easier because anyone with a smartphone can post their views, opinions, and thoughts on any topic they want. It is also much harder because 4.75Billion pieces of content are posted everyday (that's accdg to FB and Zephoria.com). 

With so much content and fake news, many are looking for the right thought leaders and influencers. You could be the one guy (or girl) for that. By becoming the go-to solar expert in your area, you can help people save on their electric bills using a clean, sustainable and renewable energy source. Once you become an expert, you can then monetize your knowledge through writing, speaking, or referrals. 
Our guest speaker for the event is Mr. Ian Roger Smith, a 10 year veteran of the solar industry.  He has worked for prestigious solar panel manufacturers such as Sunpower of the US, Canadian Solar, and RECsolar from Singapore.  As a consultant now for his own company, he now is in a position to give his objective assessment and opinion on the state of the solar industry in the Philippines and how we can take advantage of it.  
The main speaker is Gregory "Gerry" C. Divino.  He is the founder and CEO of Amatera Solar Technology, Inc, (AST) which he started in 2013.  AST has installed over 1670 solar panels in 65 locations all over Luzon from Pangasinan to Batangas.  All in all, those solar panels produce 417kW peak during a sunny day, saving their customers P6M in electricity bills per year.  Find out how you too can join the solar revolution where eventually every home and business establishment will have a solar panel in their roof.
Event Information
---
Date and Time
Sat Dec 1, 2018 | 08:00 AM - 05:00 PM 2018-12-01 08:00:00 2018-12-01 17:00:00 Asia/Manila Become a Solar Evangelist and help people Save through Solar A chance to hear more about Become a Solar Evangelist and help people Save through Solar J and F Divino Arcade 961 Aurora Boulevard Quirino District Amatera Solar Technology Inc. amatera.inc@gmail.com
location
J and F Divino Arcade 961 Aurora Boulevard Quirino District VIEW MAP
---