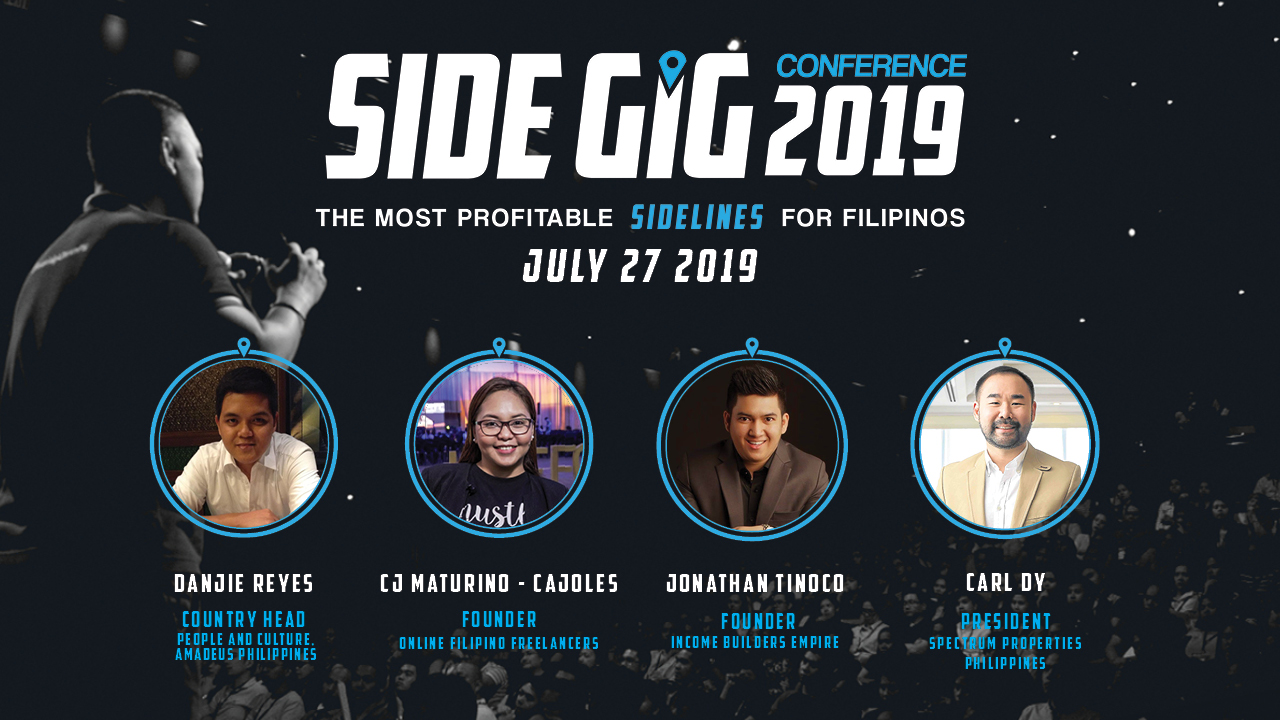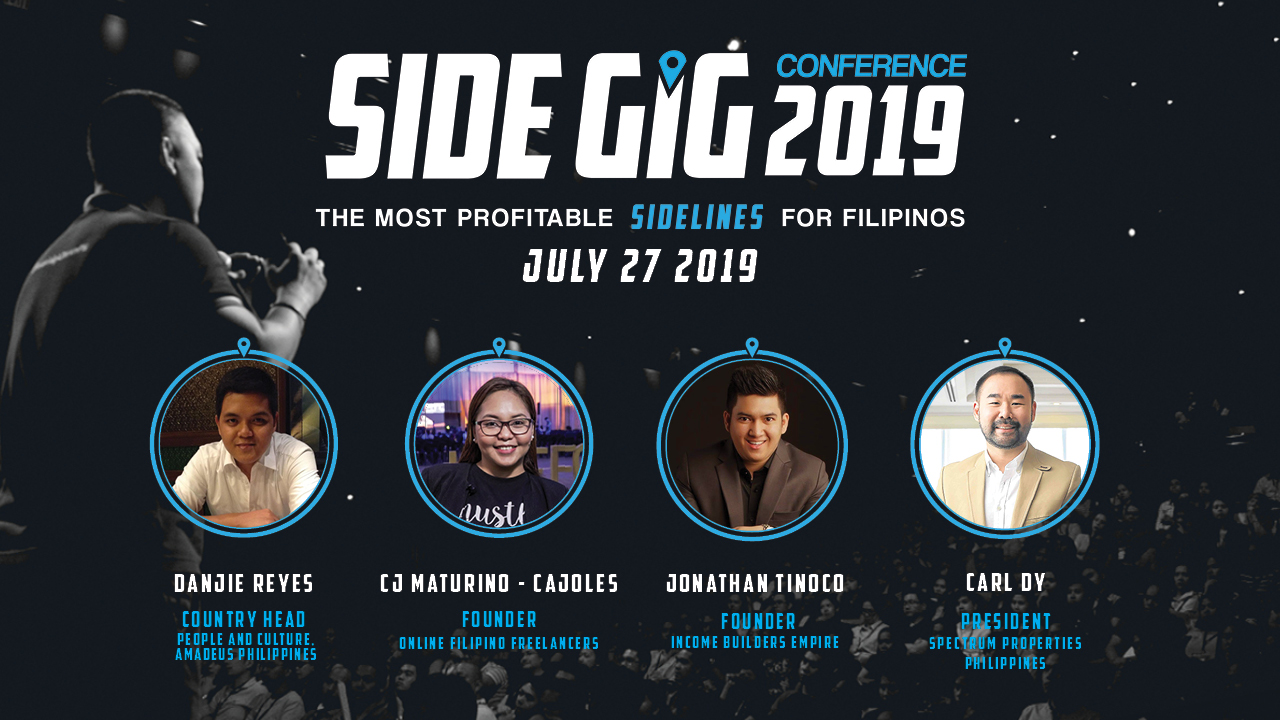 Sat Jul 27, 2019
Side Gig Conference
BGC Arts Center
By: TGFI
EVENT DESCRIPTION
Increasing your cashflow is one of the basic requirement on building wealth, but finding a decent side hustle job can be difficult. This Conference will feature the most profitable sidelines that young Filipino professionals engage with.
Side Gig Conference is a one-day-only event that you cannot afford to miss! Discover the ways on how you can earn extra income, even while you are still have a day job. Learn from our roster of speakers who are experts in the said fields, and get information on the platforms that you can use to get started.
Program Schedule
7:00AM – 9:00AM Registration
9:00AM – 9:50AM EARN UP TO 6-DIGIT FIGURE BY BEING A VIRTUAL PROFESSIONAL/FREELANCER
Freelancing is one of the most famous side lines today, for not only you get to work from home and collaborate with companies or individuals around the world, but it is a sure way to earn income for up to a 6-digit figure! This talk will help you out in your first step to being a freelancer.
9:50AM – 10:40AM HOW TO BECOME AN ENGLISH TUTOR TO FOREIGN STUDENTS
Philippines is recognized as globally as one of the largest English-speaking nations. If you are good in English and know the language very well both written and vocal this talk is for you become a part of ESL or a program that educate students who are not native English speakers.
10:40AM – 11:30AM EARN EXTRA INCOME BY SELLING OTHER PEOPLE'S PRODUCT THRU AFFILIATE MARKETING
One of the popular way for companies to increase sales is by engaging in affiliate program wherein an individual can earn thru referral of the product. Learn how you can begin this kind of side line, from the very general to its vital information.
11:30AM – 12:20PM MAKING USE OF RIDE SHARING ECONOMY
Transportation has been a common problem for us Filipinos, but ride-sharing apps are here to save our day. Get to know how ride-sharing apps can not only help you earn income but help you save a lot of your money on gasoline expenses.
12:20PM – 1:20PM BREAK
1:20PM – 2:10PM HOW TO CREATE EXTRA INCOME THRU RENTING YOUR PROPERTY
Who knew that earning income from a residential property that you rarely use can be a bending side line venture? This talk will help you gain the information that you need to begin this kind of gig.
2:10PM – 3:00PM HOW TO START BUY & SELL BUSINESS
This industry has been existing in the country for a long time, and they have made a big upgrade. Discover how you can earn from building and selling items in a well-know platform.
3:00PM – 3:50PM OFFERING PROFESSIONAL OR TRADE SKILL SERVICES
If you want to use your skills outside of work, but you don't know which platform to use to receive project offers that match your skill set, whether you are a licensed professional or someone  who knows how to execute the job.
3:50PM – 4:40PM BECOME A ROCKSTAR REAL ESTATE SALES PERSON
Our country is now engaging in various infrastructure programs and real estate developers are taking advantage of this. With real estate, there is a possibility that you can earn income through the commissions that you will get, and learning from this talk can get you started.
4:40PM – 5:00PM CLOSING REMARKS/RAFFLE DRAWS
SPEAKERS:
MR. JONATHAN TINOCO - CEO AND FOUNDER (INCOME BUILDERS EMPIRE)
MR. DANJIE REYES - COUNTRY HEAD (PEOPLE & CULTURE)
MS. CJ MATURINO-CAJOLES - FOUNDER (ONLINE FILIPINO FREELANCERS)
MR. CARL DY - PRESIDENT (SPECTRUM PROPERTIES PHILIPPINES)
Event Information
---
Date and Time
Sat Jul 27, 2019 | 09:00 AM - 05:00 PM
location
---