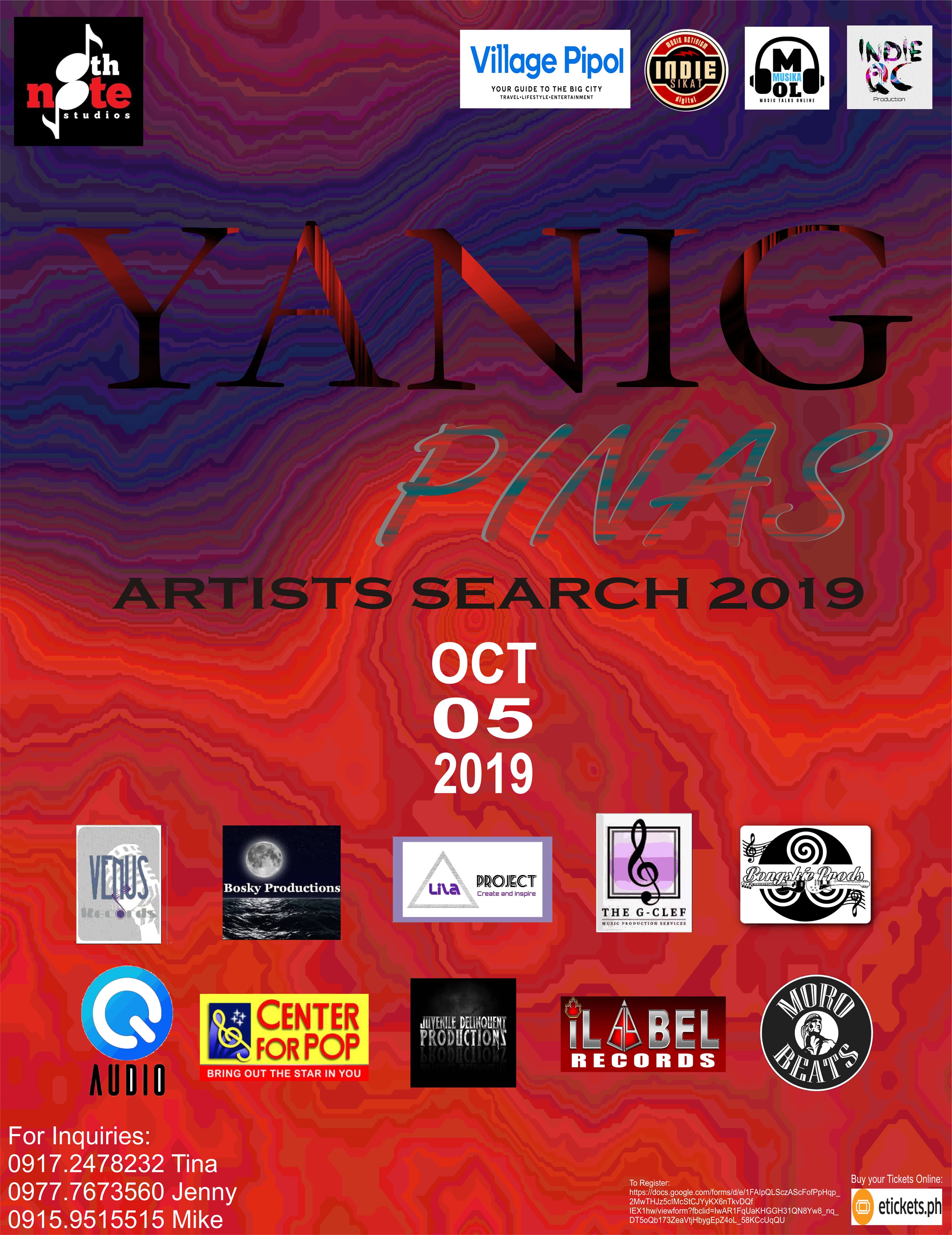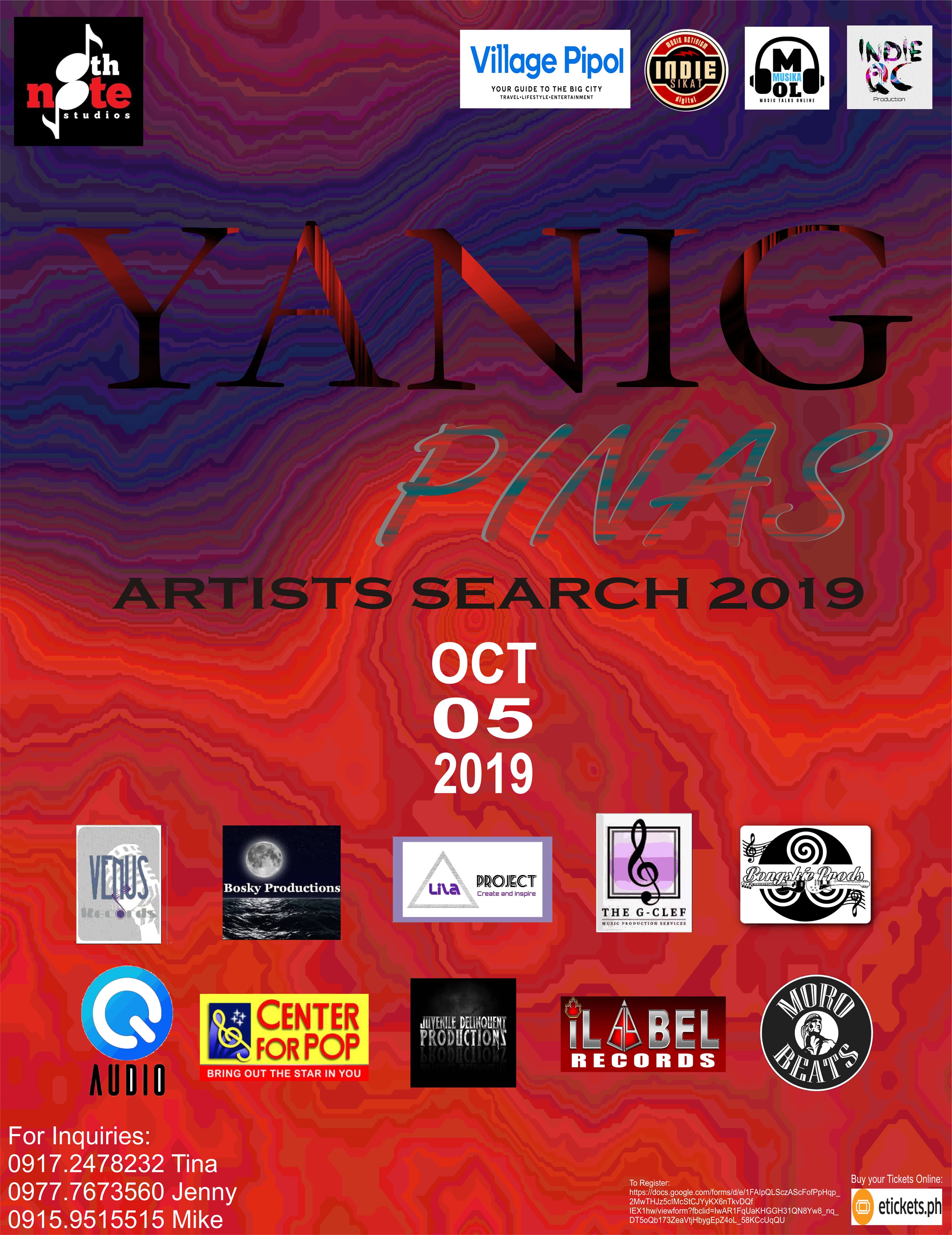 Sat Oct 5, 2019
Yanig Pinas - Artist Search 2019
8th Note Studios
By: Lila Project
EVENT DESCRIPTION
Welcome to the next big step in making your dreams come true!
The Venue/Schedule:
The Audition and or activity will be done at 8th Note Studios, Unit 201 Jajaj Building, 109 Panay Avenue, Quezon City, 1100 Metro Manila (near Rustans/MPlace Condominium) on October 5, 2019, Saturday, 10am-9pm.
*First come, first serve basis; 9am start of enlistment.
Mechanics and Requirements:
- Submitted and completely filled out registration forms.
- Prepare 1 original/cover song
- bring your own instrument/s and minus one
- bring a copy of the following(on the day of event):
. Copy of your registration form/confirmation email
.. Copy of birth certificate and or 1 valid ID
... Copy or purchase receipt or ticket
- Open to all legal residents of the Philippines / Filipino, male and female, 15yo to 30yo., Both solo and groups/Bands. 
For Minors or aged 15-17, please bring a signed parental consent and or parent/s/guardian need be present during the enlistment and audition.
- must have No existing contracts with Publishing, Major Music Labels and Artists Managements (Priority)
. For those with existing contracts with the above mentioned condition, applications will be subject to further assessments or approval.
- On the day of the activity or audition, a selection will be done and the top 20 will be offered and or given various forms of recording contracts, distribution,  deals, features and other opportunities through our trusted partners and sponsors.
- Buying of tickets can be acquired through our partner online ticket provider, please see/visit https://etickets.ph or http://etickets.ph/index.php?route=event/info/3502 and look for the event. Or, you can also forward payments via GCASH 09159515515 (available at any 711 and other selected convenient stores nationwide with electronic pay services or using the gcash app). Please don't forget to make a screenshot of your payment confirmation.
. Our online ticket service partner, eticketsph can only facilitate those with existing epay or PayPal accounts to do their purchases.
- Deadline of Payments and Registration: Sept 30, 2019

All made possible/presented by: 
Lila Project
Bosky Productions
Center for Pop - Main Office (Cubao)
Venus Records (C/o Ms Tina Edriel)
The G-Clef Music and Production
Bongskie Music and Productions
I Label Records
Juvenile Delinquents Productions
Q Audio
Media Partners:
Musika OL
Indie QC
Indie-Sikat
Online Ticket Provider:
etickets.ph
Our A Venue:
8th Note Studios 
More..
For Inquiries and other concerns, please contact us: 
Ms Tina (Venus Recordings): 0917.2478232
Mike (Lila Project): 0915.9515515
Ms. Jenny (The G-Clef): 0977.7673560
For updates, please visit our page: https://facebook.com/lilaproject.ph. 
Don't forget to like and share :)
* See posters, page and social media for updates
Event Information
---
Date and Time
Sat Oct 5, 2019 | 09:00 AM - 09:00 PM
location
---