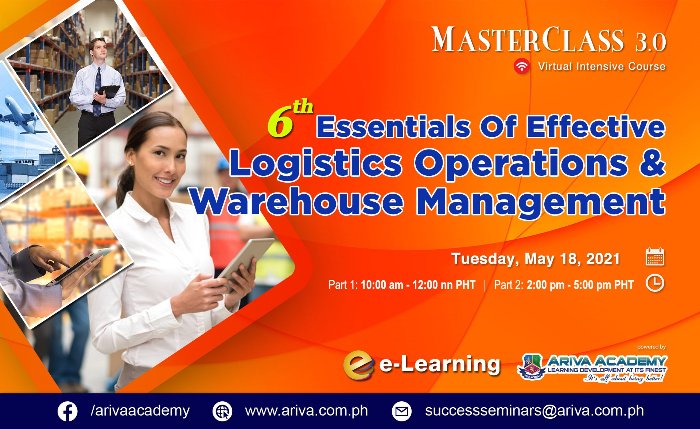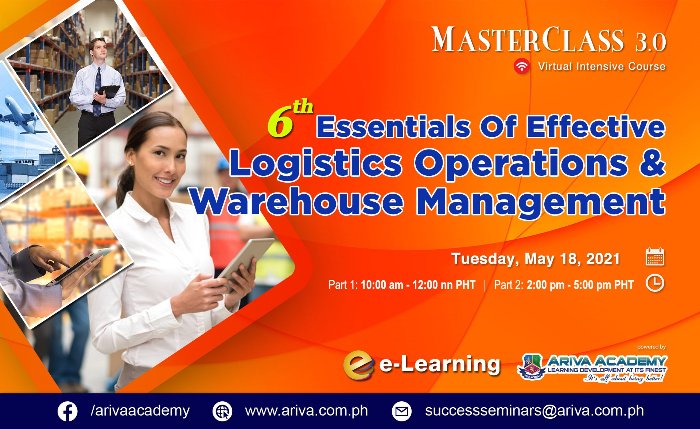 Tue May 18, 2021
6th Essentials of Effective Logistics Operations & Warehouse Management
Philippines
By: ARIVA Academy Philippines, Inc.
EVENT DESCRIPTION
Warehouse managers and supervisors are charged with becoming as efficient and productive as possible while overseeing labor, staff members, workloads, schedules, third-party vendors, and overall operations. They also need to balance improving efficiency while implementing innovative technology initiatives and procedures so they don't implement too many changes at once; otherwise, warehouse productivity will come to a screeching halt.
A comprehensive logistics and warehousing strategy should encompass strategic, operational and tactical levels of logistical planning as well as the four main pain points in the supply chain, including facility locations, customer service levels and inventory and transportation decision-making.
This virtual intensive course on Logistics and Warehouse Management MasterClass has been specifically designed to develop the competency of personnel in the warehouse, inventory and logistics functions of an organization by improving their skills, knowledge and understanding.
Productive management of the logistics, warehouse and inventory control function is essential to the dynamic support of an organization's operations, they are vital to provide excellent customer service.

MasterClass 3.0
6th Essentials of Effective Logistics Operations & Warehouse Management
Speaker: Prof. Ricky de Vera, MBA, CSP, CMP
Certified Strategic Business Facilitator – Japan/Singapore
Business Process Innovation Adviser/Consultant – ASEAN
Behavioral Psychology/EQ/Personality Facilitator – USA
Tuesday, May 18, 2021
PART 1: 10:00 AM – 12:00 NN PHT
PART 2: 2:00 PM – 5:00 PM PHT
?REGISTER NOW! CALL US!
8832-9901 | 8835-9354
(Globe/Viber) 0917-3257870
(Smart) 0919-6142598
BUY TICKET: https://www.ariva.com.ph/reservation-essentials-of-effective-logistics-operations/
View the complete details: https://www.ariva.com.ph/2021-e-learning-essentials-of-effective-logistics-operations/
_________________________________
Webinar Description:
Today, logistics operations have become much more complex as companies find it extremely difficult to maintain their competitive advantage purely on the basis of innovative strategies relating to the product, price, place, or promotion. Since these competitive advantages can easily be imitated, the emphasis now is on building a sustainable competitive advantage through logistics as a means to successfully differentiate oneself from competition.
Warehouse management, logistics management, and inventory management are crucial undertakings for businesses today. Often, these management processes and systems can be the difference between success and failure.
Managing products, processes, and people are at the crux of keeping inventory flow running smoothly, handling the logistics of supply chains, and ensuring that you have the right inventory at the right time to keep vendors, clients, customers, and staff happy.
Logistics can be considered as a tool for getting the products and services where they are needed and when they are desired. It is difficult to accomplish any marketing or manufacturing without logistical support. It involves the integration of information, transportation, inventory, warehousing, material handling, and packaging. The main aim of logistics services is to improve the performance of a company's warehousing, inventory management and distribution network. Logistics solutions enable the centralization, management and distribution of high-impact, high-value products. Globally, centralized points of distribution enable quicker time to market, resulting in reduced costs and increased market share.
_________________________________
Webinar Objectives:
The specific objectives of this unique fun-filled online learning experience are:
• A self-grounding on the essentials of Warehouse and Logistics Management;
• Understand the different areas of the Logistics and their interrelationships;
• Develop knowledge and skills in the operations of warehousing, inventory, transport and sustainable business relationships;
• Internalize the stages and their individual importance to the overall Warehouse Operations process; and
• Build a working knowledge on the critical aspects towards an efficient Warehousing and Logistics Management.?
_________________________________
Webinar Outline
Session 1: What is The Company Losing in Inefficiency on Warehousing and Logistics
Session 2: Major Challenges in Warehousing 
Session 3: Critical Concepts in Warehouse and Distribution Management
Session 4: Warehouse Operations and Process Framework
Session 5: Layout and Space Utilization
Session 6: Inventory Management
Session 7: Stock and Control Management
Session 8: Picking and Storage Management
Session 9: Major Challenges in Logistics
Session 10: Equipment Maintenance
Session 11: Materials Handling
Event Information
---
Date and Time
Tue May 18, 2021 | 10:00 AM - 05:00 PM
location
---
More Events from this Organizer