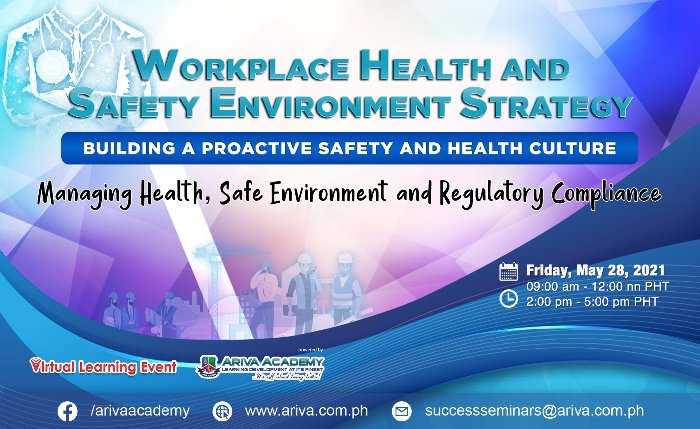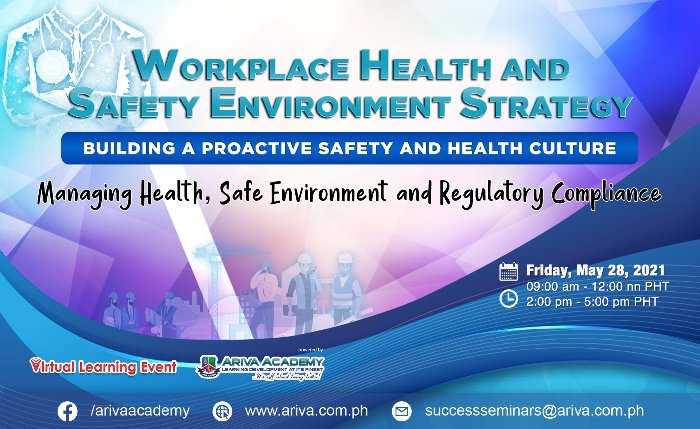 Fri May 28, 2021
Workplace Health & Safety Environment Strategy
Philippines
By: ARIVA Academy Philippines, Inc.
EVENT DESCRIPTION
Ensuring a Safe and Healthy Return to Work during the COVID-19 Pandemic and How to Implement a Safety Culture at Your Workplace!
The COVID-19 crisis is certainly putting serious pressure on both Employers and Employees. The pandemic is a Game Changer that resulted to unimaginable outcomes!
Employers are obliged to revise their Risk Assessment and Disaster Management strategies in the "New Normal" environment. They are facing the dilemma of whether they will partially or even totally shift to new procedures and practices in a very restrictive time, suspend or close the business. This crisis has translated life to a new level of a very challenging dimension.
Occupational Health and Safety is one critical responsibility of the Employer.
The new Occupational Safety and Health Standard (OSHS) guidelines, under RA 11058, mandates the employers to comply with OSHS standards, including updated training programs, on-site clinic facilities, audit, compliance tracking, educating workers on workplace hazards, and providing safe facilities and personal protective equipment, among others. The workers have the right to refuse unsafe and unhealthy work conditions.
Compliance with OSH Standards is a must to all establishments.
It is considered as a step towards industrial peace and harmony.
The Occupational Safety and Health Center (OSHC), in partnership with the Department of Labor and Employment (DOLE) directs private institutions and government organizations to ensure the health and safety of their employees.
As the new law protects workers nationwide, HR and People Managers need to be aware of how these changes impact on their organization
The Health and Safety Environment Strategy Forum aims to fortify your current know-how in sustaining a safe and ?healthy workplace in the new normal. 

Workplace Health & Safety Environment Strategy
Building a Proactive Safety and Health Culture
Managing Health, Safe Environment and Regulatory Compliance
    
Friday, May 28, 2021
9:00 AM – 12:00 NN PHT
2:00 PM – 5:00 PM PHT
?REGISTER NOW! CALL US!
8832-9901 | 8835-9354
(Globe/Viber) 0917-3257870
(Smart) 0919-6142598
BUY TICKET: https://www.ariva.com.ph/reservation-workplace-health-and-safety/
View the complete details: https://www.ariva.com.ph/2021-e-learning-workplace-health-and-safety/
_________________________________
VIRTUAL FORUM HIGHLIGHTS:
The Workplace Health & Safety Environment Strategy Virtual Forum is a timely and meaningful topic on conducting a safe return to the workplace, supporting and protecting workers adapt to the new normal. The World of Work is adversely affected brought about by the havoc of this crisis! Society, as a whole, needs to act expediently. Businesses have to recover from a slumped economy. Employers and Social Partners must seek ways to protect and support their workers and families, beyond what the Government can provide.
The Virtual Forum will focus on the terms, conditions, policies, practices, and compliance of Occupational Safety and Health Standards to help employers and workers to stay safe and healthy in a work environment that has been significantly altered by the COVID-19 pandemic. Guidelines include examples of general measures, depending on the particular work situation, can help employers achieve an appropriately safe and healthy work environment in resuming business activities.
The OSH Center offers interim guidance on prevention of worker's exposure to COVID-19, including what to do if someone is infected. Guidelines also cover the installation of appropriate preventive measures to achieve a safe and healthy environment upon return to work. Further, this Forum shall expound on the guidelines in suppressing transmission of COVID-19; and will provide updates on the emerging Occupational Safety and Health directions and regulations for Employer compliance.
The Workplace Health & Safety Environment Strategy Forum is a learning venue on what infection control strategies Employers should adopt after a thorough hazard assessment, utilizing integrated engineering and administrative controls, practicing safe work practices and wearing of personal protective equipment (PPE). Certain OSHC Standards, that apply to prevention of occupational exposure to SARS-CoV-2, shall be discussed as Employers are required to train workers on elements of infection prevention, including the use of PPE. The memorandum requires employers to implement all necessary workplace safety and health programs, including those related to COVID-19, at no cost to the employees. 
_________________________________
VIRTUAL FORUM OBJECTIVES:
The Workplace Health & Safety Environment Strategy Virtual Forum aims to facilitate voluntary compliance of Labor Laws and Occupational Safety and Health Standards to support Employers, Entrepreneurs, Professional Managers, and Leaders level up in their business processes, with an end goal of prevention of workplace exposure to COVID-19. The other learning topics include:
• Complying with OSH Standards in the Workplace
• Assessing Risks and Implementing Measures
• Equipping Employees of Risk Management
• Fortifying Productivity During Crisis
• Managing a High Rate of Absenteeism
• Enhancing Social Responsibility Goals 
• Supporting Physical and Mental Health at Work
• Caring for Employees who are and were Sick
• Engaging Employees who Work From Home (WFH)
• Sustaining a Good Business Model
_________________________________
WHO SHOULD ATTEND?
Industries:
• Government Bodies
• Oil, Gas, Energy and Utilities
• Petrochemicals
• Chemicals
• Pharmaceuticals
• Construction and Real Estate
• Shipping, Logistics and Transportation
• Infrastructure
• Tobacco
• Aviation
• Manufacturing
• Heavy Engineering
• Automobiles
• Telecommunication
Functions:
• Disciplines of HSE
• Occupational Health
• Safety and Security
• Emergency Response
• Plant heads and Manufacturing Heads
• Environment Control and Monitoring
• Operations and Maintenance
• Site Management
• Compliance
• Regulations
• Operations managers
• Business Development
• Educators
• Consulting
• Process Safety
• Environmental Science
Event Information
---
Date and Time
Fri May 28, 2021 | 09:00 AM - 05:00 PM
location
---
More Events from this Organizer