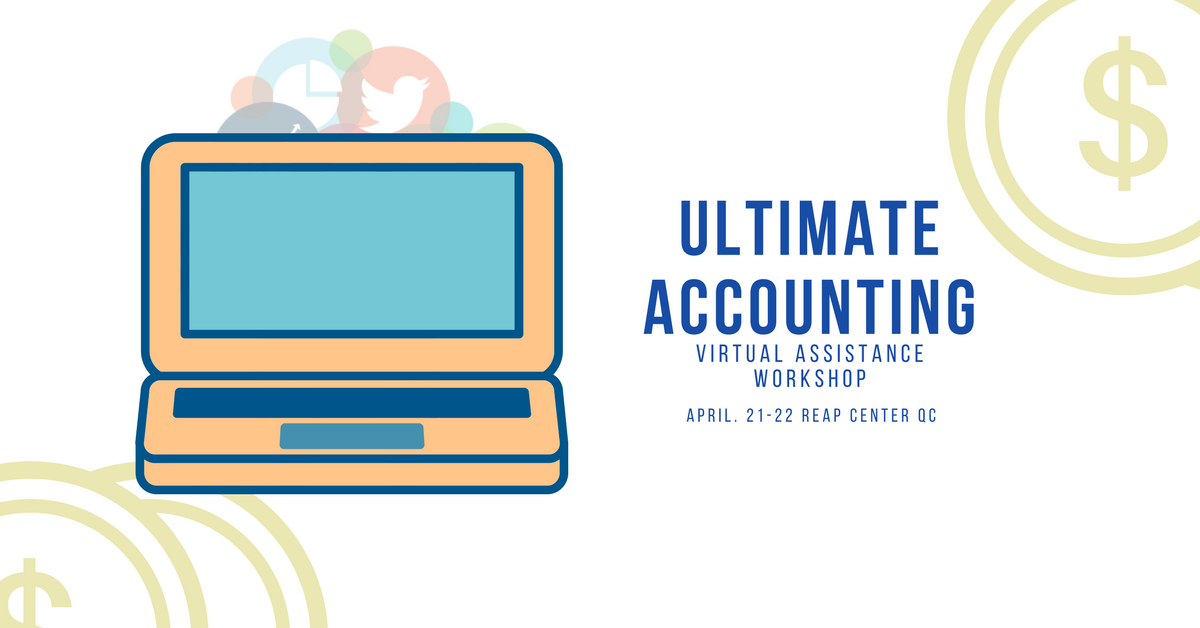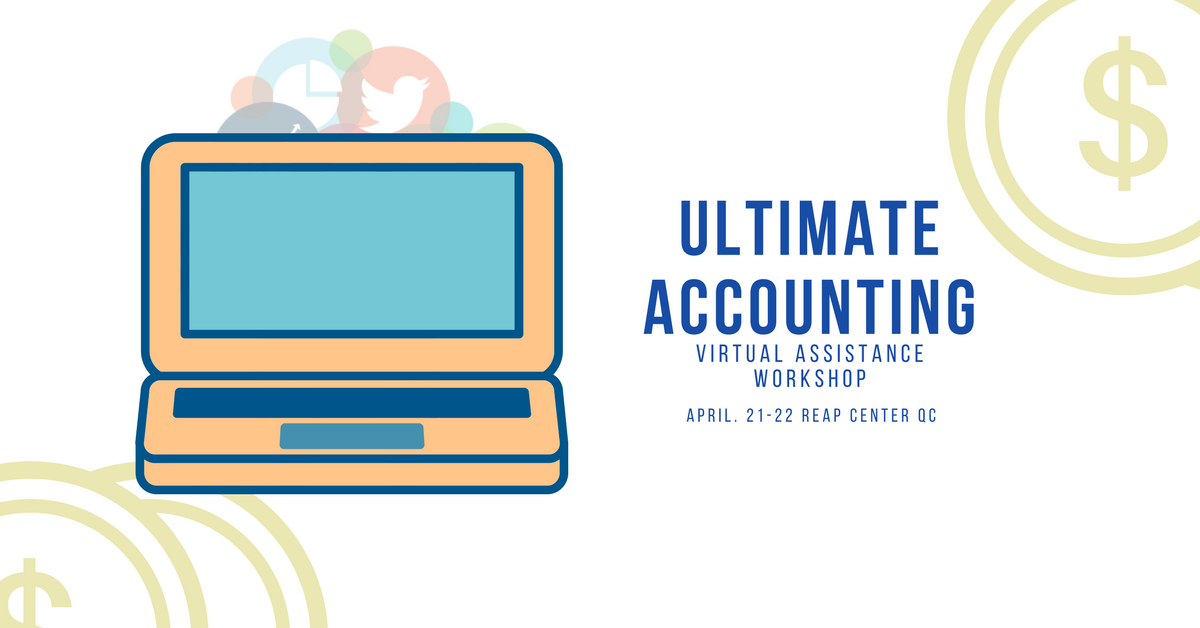 Sat Apr 21 - Sun Apr 22, 2018
Ultimate Accounting Virtual Assistance Workshop
Reap Center Manila
By: Mechile Sison
EVENT DESCRIPTION
ULTIMATE ACCOUNTING VA IS NOW OPEN FOR REGISTRATION!
If you are an aspiring accounting VA, graduate or not...
Or maybe your dream is being an accountant yet your degree is way too far. It's okay. ..
You want to escape from everyday traffic jam, office politics, and toxic bosses.
You want to earn double of your salary while spending more time with your family... 
Then this workshop is perfect for you...
Future Clients  you will be working with don't care about your background. All they do care is that you know the accounting software and how to do it all throughout.
And that's what we are going to teach you.
The Ultimate Accounting VA Workshop will be on Saturday and Sunday,  April 21-22
From 8 am to 5 pm. (Specific Location soon to be announced)
It will be full of fun and mind-blowing learnings. Discover how to become a world-class accounting VA even if you don't have any experience.
Here's the course outline for Ultimate Accounting VA Workshop
I.  QUICKBOOKS ACCOUNTING
 Company Set Up
 Charts of Accounts
 Vendors and Customers
 Items and Services
 Purchase Transaction
 Sales Transaction
 Banking Transaction
 Reporting
 Hands-on Exercises 
II. MYOB ACCOUNTING
Company Set up 
Accounts Command Center 
Card files
Inventory
Purchase Command Center
Sales Command Center
Banking Command Center
Reports
Hands On Exercise
III.  QUICKBOOKS ONLINE AND  XERO ACCOUNTING 
Charts of  Accounts 
Business Partners 
Items/Purchase 
Purchases
Sales 
Banking 
Reports 
BONUS:
Exclusive Tips from marketing guru Rowell Austria on How to deal with clients and pay you form $500-$1000/month
Lifetime Group Chat Support 
Certificate of Completion
REMINDERS; 
Please bring the following:
Laptop with Windows 7-10 O.S
Macbook is not applicable
Pocket Wifi for Internet back-up
Flash Drive
Paper/Pen
Certificates will be given as well after the training.
*FOR PAYMENTS*
You can settle your payment with the following
1. Click the Register button in the upper right. You can pay via Paypal, ATM, Virtual Cards like Paymaya or Gcash and Credit Card. 
2. You Can Deposit on the accounts below.
BPI - Account name: MECHILE L. SISON Account #2086 9044 37
BDO - Account name: MECHILE L. SISON  Account #0027 0034 3871

3.Send us a copy of your deposit slip at mechillesison@gmail.com and contact us at 09264517722
 For Installment terms, please contact 0933-8549896 for instructions.
Visit our facebook for more info - https://www.facebook.com/TDCPRESTIGETRAINING/
See you there!
FAQ
Q. Do you provide Jobs?
A. No. But we will guide you with our support team how to have your client asap.
Q. I'm not a Techie is that fine?
A.  Yes. As long as you are willing to learn and you have a laptop and internet.
Q. Is  this MLM
A. No
Q. Can I pay Installment?
A. Yes. just scroll up and see the instructions how.
Q. I'm lazy is that ok?
A. No It's not. just because you work from home it doesn't mean clients and payments will come to you automatically.
Q. Is there lunch?
A. Nope, but we do give snacks and drinks from time to time. 
ARE YOU READY TO CHANGE YOUR FUTURE AND LIVE A HAPPY LIFE?
REGISTER TODAY!
Event Information
---
Date and Time
Sat Apr 21 - Sun Apr 22, 2018 | 08:00 AM - 05:00 AM 2018-04-21 08:00:00 2018-04-22 05:00:00 Asia/Manila Ultimate Accounting Virtual Assistance Workshop A chance to hear more about Ultimate Accounting Virtual Assistance Workshop #2 Atok St. Corner Banawe St 1115 Mechile Sison mechilesison@gmail.com
location
#2 Atok St. Corner Banawe St 1115 VIEW MAP
---