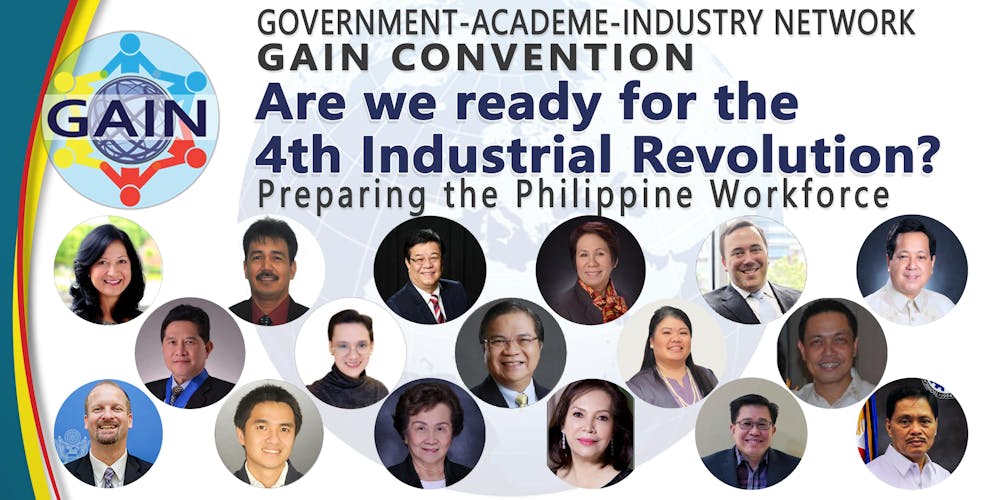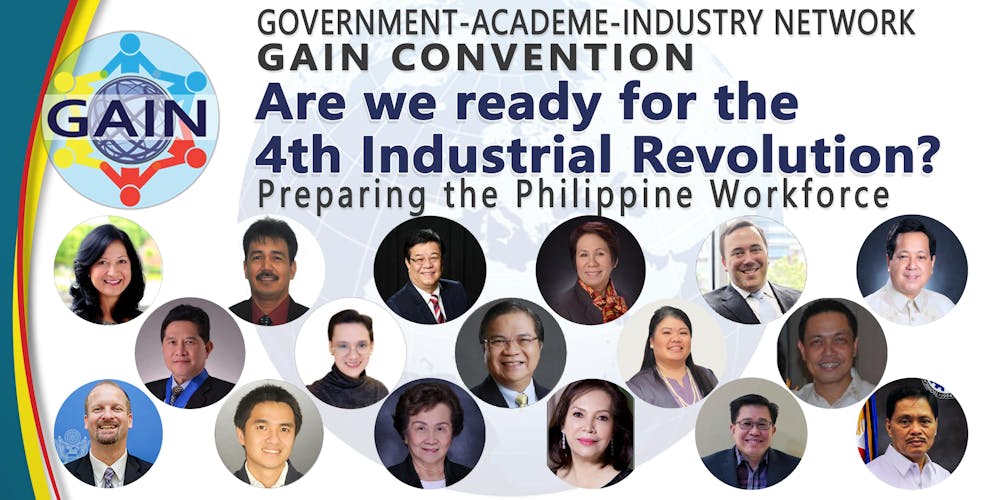 Feb 08
GAIN 2018 National Convention: Preparing for the 4th Industrial Revolution
By: by Government-Academe-Industry (GAIN) Inc.
EVENT DESCRIPTION
The Government-Academe-Industry Network (GAIN) will organize its 2018 GAIN National Convention themed "Are we ready for the 4th Industrial Revolution? - Preparing the Philippine Workforce". The Convention aims to build a forum where key stakeholders can collaborate to ensure the global competitiveness of the Philippine workforce. With countries around the world ensuring that their workforce is up-skilled for the demands of the world economy and prepared for new technologies like Artificial Intelligence and Automation, the Philippines must ensure that its workforce is likewise ready.
---
CONVENTION FEATURES

---
CONVENTION TOPICS
Keynote Address - The Philippine Workforce and Graduates - Producing Globally Competitive People Ready to Tackle the 4th Industrial Revolution.
Speaker: Dr. J. Prospero De Vera III* - Commission on Higher Education
Session 1: Nations Report Card: Preliminary Findings
Gathering data from over 10,000 respondents, results from the two years research show that the average English proficiency level of a Philippine College Graduate is lower than the English proficiency target set for High School Graduates in Thailand. Learn more about the landmark study that has been presented to leading organizations such as PACU, CCAP, PMAP and PRC.
Speakers: Dr. Melva Diamante - President of Southville International School affiliated with Foreign Universities
and Mr. Rex Wallen Tan - General Manager of Hopkins International Partners, Inc.
Session 2: Panel Discussion - Competencies needed for Globally Competitive Talent Pool - Artificial Intelligence and Automation are changing the landscape of competencies needed by graduates to enter the global arena. Join the discussion as a select group of experts analyze and explore the skill sets needed and the standards to follow to prepare the workforce of tomorrow.
Panelists: Dr. Conrado Iñigo - Vice President for Academic Affairs at Lyceum of the Philippines University - Manila, Dr. Raymund Arcega - Executive Vice President of University of Makati, Mr. Gerard Sanvictores - Vice President of Philippine Association of Professional Regulatory Board members, Inc. and Ms. Michelle Cordero-Garcia - Country HR Director & Concurrent Regional Manager for L&D (East Asia) SGS Gulf Ltd.
Session 3: Bridging the Industry-Academe Skills Gap - 79% of graduates are found to have a skills mismatch and the unemployment rate of the youth (58%) is far higher than the national average (15%). Listen as industry stalwarts discuss the pain points to recruit and train qualified graduates who meet the 21st century skills and competencies.
Speakers: Dr. Rene Gener - Executive Director of People Management Association of the Philippines (PMAP) and Mr. Benedict Hernandez* - President of Contact Center Association of the Philippines (CCAP)
Session 4: The Internationalization of the ASEAN Human Capital and its Implication to the Workforce - The ASEAN integration created a regional powerhouse of over 600 million citizens and is the 7th largest economic region in the world with English as the official chosen language. Find out how the ASEAN Human Capital is increasingly becoming globally oriented, and how it impacts the competitiveness of our Philippine workforce.
Speakers: Dr. Ma. Christina Aquino - Executive Director for Planning and Development, Lyceum of the Philippines University - Manila
TOWNHALL WORKSHOP
Working Towards National Standards to Remain Globally Competitive - Formulate action plans with fellow game-changers that can serve as basis for national policies from the synergy of Government, Academe and Industry.
SUCCESS CASE STUDY
Session 5: From Street Children to Global Employees
The Tuloy Foundation has successfully partnered with a leading IT-BPO to train marginalized youth to become full-time contact center workers. One such story is a former street child who later becomes the top BPO employee of the company worldwide. Find out how 6 months can impact and transform the lives of street children changing their lives forever.
Speaker: Mr. Peter Hayden - Country General Manager, Capital One Philippines Support Services Corp
Session 6: US Embassy Access Program
Partnering with local universities in the Philippines, the English access Microscholarship Program of the US Embassy provides English classes to Philippines, talented 13-20 year-olds from economically disadvantaged sectors through after-school classes and intensive learning sessions.
Speaker: Mr. Matt Keener - Cultural Affairs Officer, U.S. Department of State and Public Affairs Section, U.S. Embassy Manila

Closing Keynote: Putting It All Together and Moving Forward to Sustain and Enhance Our Advantage
Speaker: Sec. Leonor Briones* - Secretary, Department of Education
* Invited
THIS EVENT WILL:
PAVE the path to identify and address workforce issues that can only be resolved through the collaboration of government, academe and industry.
ALLOW participation to provide input towards the formulation of national policies that will impact the Country's workforce.
ACT as a partner in ensuring global competitiveness of our Philippine graduates and workforce by establishing international standards in English Communication, Technology, and subsequently across Professional Disciplines such as Engineering, Hospitality, Accountancy, etc.
GENERATE support from government-academe-industry to adopt global English standards such as the CEFR framework used in 81 countries, aspire for at least a B2 (lowest is A1, highest is C2) leading to enhanced curricula, instruction, and more effective talent management programs.
CREATE an awareness of the country's level of English prof.iciency and halt its further decline to protect global competitiveness of Filipinos.
INSPIRE the enhancement of organizational standards , human capital practices and key performance indicators aligned with global benchmarks.
PREPARE participants for a fast-changing world demographic and the rapid need for evolution to stay competitive and relevant during the age of disruption and innovation.
REVOLUTIONIZE, innovate, and challenge the existing process, and embolden attendees to be ready for an uncertain future.
---
HOW TO REGISTER
Individual Rate/Regular Registration Rate: Php 3,750.00 per Person
Discounted Rates
Early Bird (Until January 19, 2017 only): Php 3,250.00
Group Registration (Minimum of 5): Php 3,250.00 per Person
Government Individual Rate(Minimum of 5): Php 3,250.00 per Person
Step 1: Registrants should click register and fill out the form.
Step 2: Send scanned copy of deposit slip to inquiries.gain@gmail.com
Step 3: Registration confirmation will be sent to your e-mail
Banco de Oro (BDO) Branch
Account name: Hopkins International Partners, Inc.
Account number: 35300-64879
Bank of the Philippine Islands (BPI) Branch
Account name: Hopkins International Partners, Inc.
Account number: 18631-84025
---
Email: inquiries.gain@gmail.com
Cellphone Nos: +63917-5972278 or +63922-8863420
Website: www.gaininc.weebly.com
Facebook Page: www.facebook.com/gaininc.org
Event Information
---
Date and Time
Thu, February 8, 2018 8:00 AM – 5:00 PM PST
location
The Heritage Hotel Manila Roxas Boulevard Manila, NCR 1300
---
etickets.ph © Copyright 2014-2019 Casuy Pte. Ltd. - All Rights Reserved.
attendee name
registered to
event name display