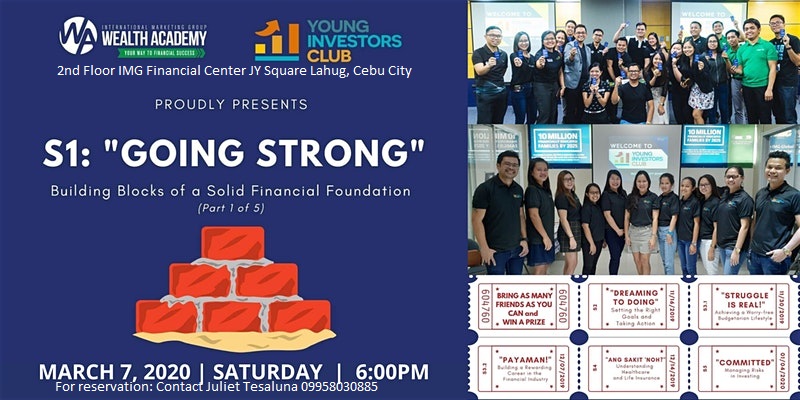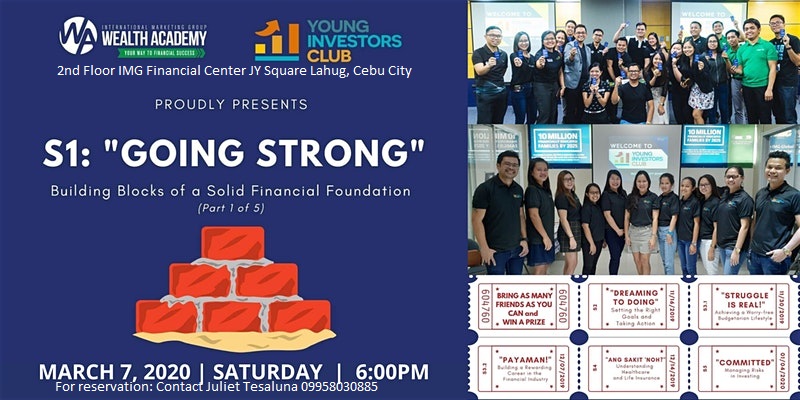 Sat Mar 7, 2020
YOUNG INVESTORS CLUB- CEBU S1: "GOING STRONG"
2nd Floor IMG Financial Center, JY Square Lahug
By: JULIET V. TESALUNA
EVENT DESCRIPTION
Have you ever asked yourself this question? 
"I have been working hard all my life but I wasnt able to save anything. Where did my money go?" 
If you have, maybe you are using the wrong saving formula. Its not hard, you just need to know few fundamentals.
What to expect:
** This event is FREE of charge 
** Learn how to save in the right way                                                                                 
** Learn and understand how money works through our hands-on activities 
** Learn how to start your own journey to financial freedom
** Get a chance to win exclusive prize                                                                                    **Get to know the Young Investors Club, what we do, and why we do it
** Know how to become part of the Young Investors Club Cebu
If this sounds like you, please register. Bring along pad and paper to take notes, tell and bring your friends, share this event. Let's win against poverty.
Strictly no walk in, please dont forget to register.
Cheers,
Juliet V. Tesaluna
09958030885
Event Information
---
Date and Time
Sat Mar 7, 2020 | 06:00 PM - 08:00 PM
location
---