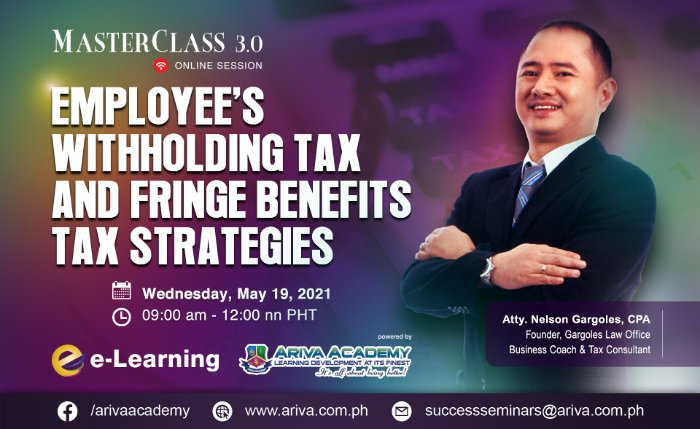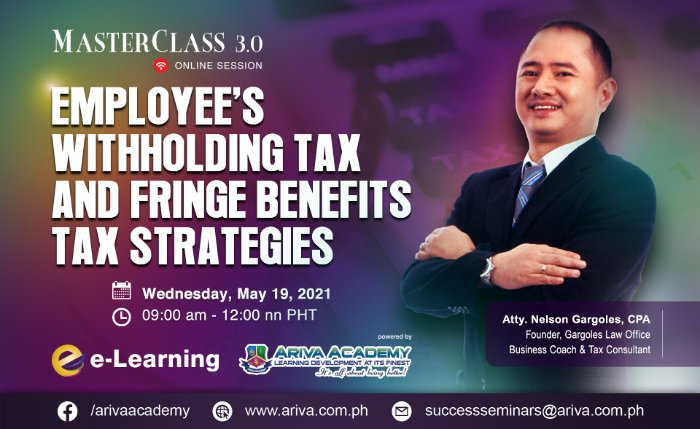 Wed May 19, 2021
Employee's Withholding Tax and ?Fringe Benefits Tax Strategies
Philippines
By: ARIVA Academy Philippines, Inc.
EVENT DESCRIPTION
MasterClass 3.0
Employee's Withholding Tax and ?Fringe Benefits Tax Strategies
Atty. Nelson S. Gargoles, CPA 
Founder, Gargoles Law Office
Business Coach and Tax Consultant
Wednesday, May 19, 2021
9:00 AM – 12:00 NN PHT
?REGISTER NOW! CALL US!
8832-9901 | 8835-9354
(Globe/Viber) 0917-3257870
(Smart) 0919-6142598
BUY TICKET: https://www.ariva.com.ph/reservation-employees-withholding-tax/
View the complete details: https://www.ariva.com.ph/2021-e-learning-employee-withholding-tax/
_________________________________
Webinar Description:
In the operation of withholding tax system on compensation, the withholding agent is the employer. Fringe Benefits Tax is also imposed on the fringe benefit furnished, granted or paid by the employer to the employee, except rank and file employees The BIR requires the employer as withholding agent to remit the proper withholding taxes on compensation or fringe benefits otherwise, deficiency taxes and penalties may arise.
De Minimis Benefits are included so that the taxpayer will know the tax exempt benefits of the employees. Knowledge of the tax laws, rules and regulations on the taxation of employee's compensation and fringe benefits are significant so that the company may balance its role as an employer and as withholding agent.
_________________________________
Webinar Objectives:
The specific objectives of this unique fun-filled online learning experience are:
• To know the procedure in employee's registration and updates with the BIR;
• To know the component or composition of Gross Compensation;
• To learn about the De Minimis Benefits;
• To know the Personal Exemptions of Employees;
• To know the rules of Fringe Benefits Tax; and
• To know the manner, procedure and filing of tax returns and information with regards to Withholding tax on wages and Fringe Benefits Tax.
_________________________________
Webinar Outline
Session 1: Taxation of Employees
Session 2: Registration Process of Employee
Session 3: Registration Updates
Session 4: Gross Compensation
Session 5: De Minimis Benefits
Session 6: Person and Additional Exemptions
Session 7: Person Responsible to Withhold
Session 8: Time of Withholding
Session 9: Calculating Withholding Tax
Session 10: Annualization of Withholding Tax on Employees
Session 11: BIR Form 1601C
Session 12: BIR Form 1604CF
Session 13: BIR Form 2316
Session 14: Withholding Tax Violations
Session 15: Fringe Benefits Tax
 
Event Information
---
Date and Time
Wed May 19, 2021 | 09:00 AM - 12:00 PM
location
---
More Events from this Organizer