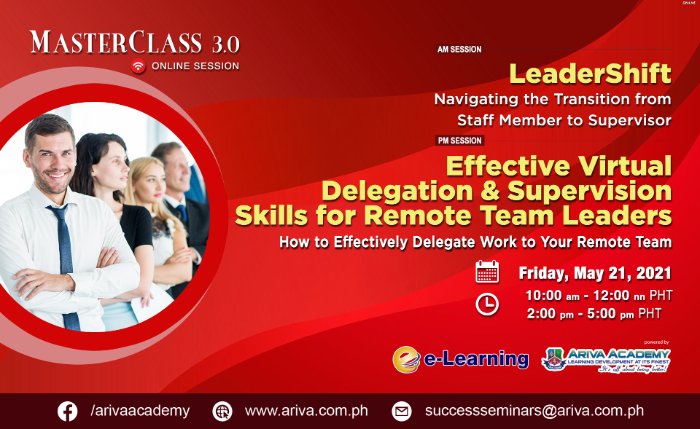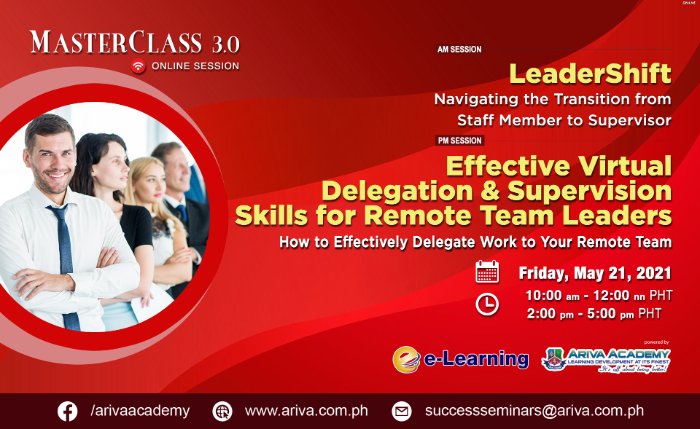 Fri May 21, 2021
Effective Virtual Delegation & Supervision Skills for Remote Team Leaders: How to Effectively Delegate Work to Your Remo
Philippines
By: ARIVA Academy Philippines, Inc.
EVENT DESCRIPTION
Do you feel stressed and overloaded? Or that your career seems stalled? ?If so, then you may need to brush up your delegation skills!
Delegation is an essential leadership skill, and delegating to a virtual workforce is especially challenging.
As a Supervisor and Team Leader, delegating tasks and responsibility to remote team members, you need to build a culture and support structure to facilitate the most effective communication. Encourage clarity. Test people's understanding of what is needed, to avoid any misunderstandings that could cost time and therefore money during the project.
To get more insights and strategies on how to delegate and supervise a remote team successfully, we recommend you to sign up for this webinar!

MasterClass 3.0
Effective Virtual Delegation & Supervision Skills for Remote Team Leaders: How to Effectively Delegate Work to Your Remote Team
Joselito "Jet" G. Nera
HR and OD Consultant
Chairman of the Board of Trustees, 2015-2016,
Philippine Society for Training and Development (PSTD)
2008, President, Philippine Society for Training and Development (PSTD)
Partner Speaker, ARIVA Speakers Bureau
Friday, May 21, 2021
PART 2: 2:00 PM – 5:00 PM PHT
?REGISTER NOW! CALL US!
8832-9901 | 8835-9354
(Globe/Viber) 0917-3257870
(Smart) 0919-6142598
BUY TICKET: https://www.ariva.com.ph/reservation-leadershift/
View the complete details: https://www.ariva.com.ph/2021-e-learning-leadershift/
_________________________________
Webinar Description:
As a Supervisor or a Team Leader with remote workers and remote team members, you might wonder about the viability of delegating tasks and therefore some of your authority and responsibility to professionals in other countries and time zones, especially if they're freelancers or contractors. 
Supervisors have some tasks that they need to do, but their primary job is to make sure that others are doing what they have been assigned to accomplish the mission and goals of the organization. Effective Team Leaders know what responsibilities to delegate to allow themselves time to plan, to collaborate with others in the organization, and to monitor the performance of their virtual workforce, making sure to give them adequate feedback and development opportunities.
Effective delegation is one of the most valuable skills you can master. It reduces your workload and develops employee skills. Delegating prepares employees who work for you to be able to handle your responsibilities and simultaneously allows you to advance to other career opportunities within your organization.
Delegation is often one of the hardest skills for a Team Leader to master. However, the skill can be learned. This webinar will explore many of the facets of delegation, including when to delegate and whom to delegate to. We will also go through the delegation process step by step and learn about techniques to overcome problems. In this online session, we look at some strategies that can help remote Supervisors and Team Leaders delegate among remote and virtual employees and teams.
This fast-paced, half-day online learning session gives you real-world practice in delegation strategies that will reduce your stress level, empower your staff and build morale. Put this delegation skills training to work for you to pinpoint the right task, the right time and the right person to help you maximize productivity for you and your team.
_________________________________
Webinar Objectives
The specific objectives of this unique fun-filled learning experience are:
• Clearly identify how delegation fits into your job and how it can make you more successful;
• Recognize barriers to successful delegation;
• Identify different ways of delegating tasks;
• Choose the right person for the right task;
• Give better instructions for better delegation results;
• Recognize common delegation pitfalls and how to avoid them;
• Use questions to generate buy-in, coach, and confirm understanding;
• Monitor delegation results;
• Give effective feedback; and
• Help participants understand how they will benefit from improving their abilities to give tasks to others. 
_________________________________
Webinar Outline
Session 1: Advantages of Delegation
Session 2: Barriers to Delegation
Session 3: Delegating Appropriate Tasks
Session 4: Empowerment and Responsibility
Session 5: Delegation Process
Session 6: Expectation Management
Session 7: Dealing with Resistance and Objections
Session 8: Supervision
Session 9: Delegation Dilemmas
Session 10: Action Planning
Event Information
---
Date and Time
Fri May 21, 2021 | 02:00 PM - 05:00 PM
location
---
More Events from this Organizer