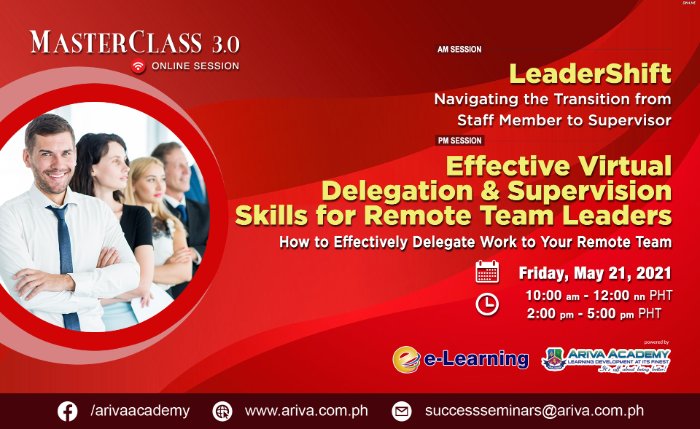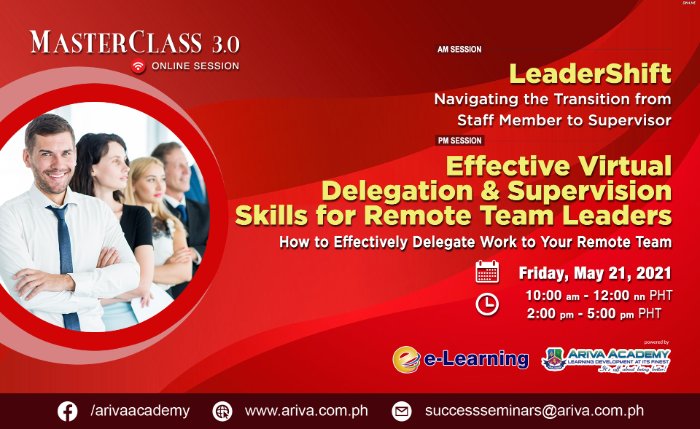 Fri May 21, 2021
Leadershift: Navigating the Transition from Staff Member to Supervisor
Philippines
By: ARIVA Academy Philippines, Inc.
EVENT DESCRIPTION
Have you recently been promoted to a new position as a manager or supervisor?
Moving into a position of authority means meeting new challenges, taking on new responsibilities and mastering new skills. It also puts you in line for greater rewards at work — including positive recognition from peers and higher-ups, increased job satisfaction and better benefits.
That's all well and good, but as a new supervisor, you may feel overwhelmed by all your new responsibilities, anxious about the transition and stressed out about moving from "coworker" to "boss."
Sign up for this fun and fast-paced online session and you'll learn to successfully navigate the world of management, while avoiding pitfalls and capitalizing on your strengths. Designed with you in mind, this webinar contains all the information you need to make the jump from staff member ?to a new supervisor smooth and effective.

MasterClass 3.0
Leadershift: Navigating the Transition from Staff Member to Supervisor
Joselito "Jet" G. Nera
HR and OD Consultant
Chairman of the Board of Trustees, 2015-2016,
Philippine Society for Training and Development (PSTD)
2008, President, Philippine Society for Training and Development (PSTD)
Partner Speaker, ARIVA Speakers Bureau
Friday, May 21, 2021
PART 1: 10:00 AM – 12:00 NN PHT
?REGISTER NOW! CALL US!
8832-9901 | 8835-9354
(Globe/Viber) 0917-3257870
(Smart) 0919-6142598
BUY TICKET: https://www.ariva.com.ph/reservation-leadershift/
View the complete details: https://www.ariva.com.ph/2021-e-learning-leadershift/
_________________________________
Webinar Description:
Elevate your skills to a higher level of performance!
Transitioning from a staff position to a management position involves a major change in how you function as an employee. As a staffer, your job is to please your supervisor. When you become a supervisor, your job is to lead your staff in a way that serves to expand and promote the company's interests. Whether you are making the transition through an internal promotion at your company or through starting a new job at a different company, it helps to understand the dynamics of the transition.
This new supervisor online training specifically designed to address the needs of anyone who is new to managing others. What you learn in this webinar will arm you with a powerful new set of skills, strategies and techniques for dealing with the issues you will encounter as you take on your new position and move forward in your career.
In this high-impact webinar, our Subject Matter Expert will help new supervisors like you avoid common pitfalls. Get the secrets and essential skills of managing people, from delivering corrective feedback and coaching to conflict resolution and delegation. With expertly guided hands-on practice, you'll gain confidence and know-how you can use right away. You'll also develop a personalized game plan mapping the steps to help you reap the rewards of being a new supervisor.
_________________________________
Webinar Objectives
The specific objectives of this unique fun-filled learning experience are:
• Understand and embrace our new role as a Supervisor;
• Manage personal and organizational barriers to leadership transitions;
• Recognize and effectively perform fundamental imperatives of leadership transitions;
• Identify the greatest challenges for the new Supervisors; and
• Let go of the "rank-and-file" mindset.
_________________________________
Webinar Outline
Session 1: The Major Leap From Staff to Supervisor
Session 2: Embracing The New Role of "Organizing"
Session 3: Leading with New Skills and Poise
Session 4: Communicating for Maximum Effect
Session 5: Dealing with Former Peers
Session 6: Expert Motivation Techniques
Session 7: Master Management Problem Solving
Session 8: Planning for Action
 
Event Information
---
Date and Time
Fri May 21, 2021 | 10:00 AM - 12:00 PM
location
---
More Events from this Organizer