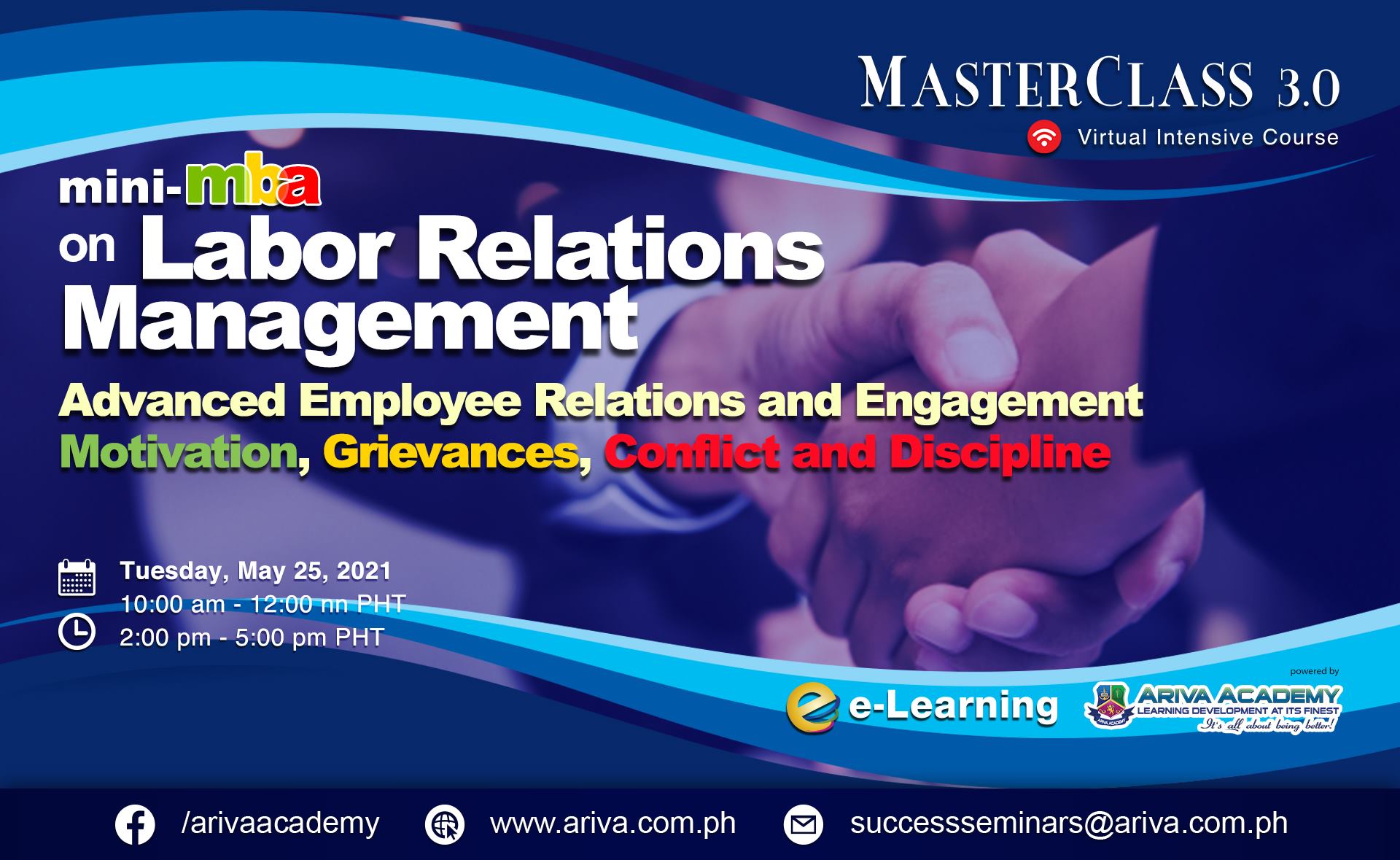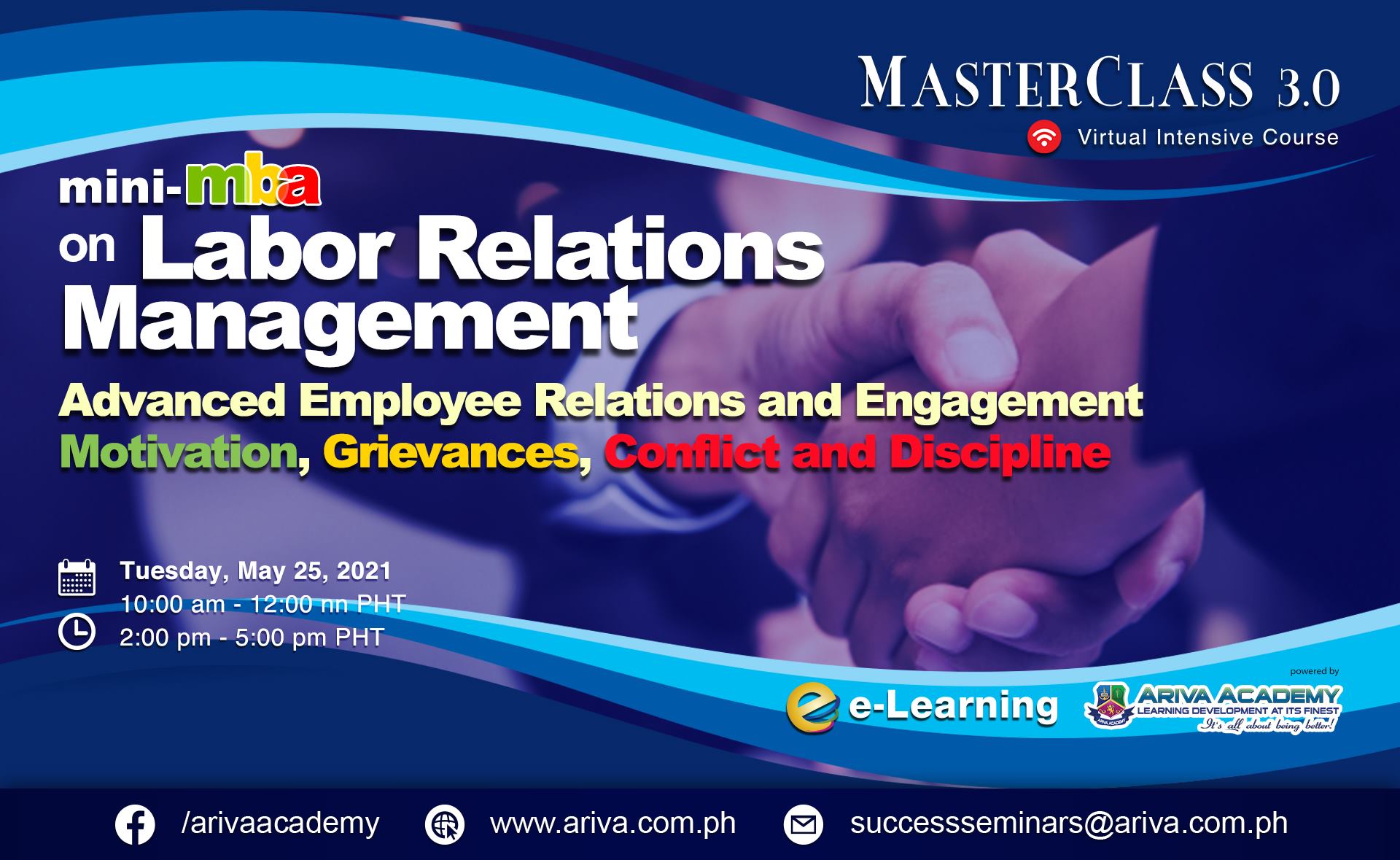 Wed May 26, 2021
6th Mini-MBA on Labor Relations Management
Philippines
By: ARIVA Academy Philippines, Inc.
EVENT DESCRIPTION
MasterClass 3.0
6th Mini-MBA on Labor Relations Management
Wednesday, May 26, 2021
10:00 AM – 12:00 NN PHT
2:00 PM – 5:00 PM PHT
?REGISTER NOW! CALL US!
8832-9901 | 8835-9354
(Globe/Viber) 0917-3257870
(Smart) 0919-6142598
BUY TICKET: https://www.ariva.com.ph/reservation-mini-mba-on-labor-relations-management/
View the complete details: https://www.ariva.com.ph/2021-e-learning-mini-mba-on-labor-law/
_________________________________
Webinar Objectives
The specific objectives of this unique fun-filled learning experience are:
• To understand better the realities and intricacies of labor law and labor-management relations in the Philippines, particularly in the industry where their companies and businesses happen to belong to;
• To recognize and understand the "rules of the game" of Philippine labor law and labor management relations; and thereby become better "players";
• To enhance their knowledge of labor law and jurisprudence (i.e. Supreme Court Decisions), and on how to effectively deal with the Department of Labor and Employment (DOLE) and other regulatory agencies; 
• To acquire working knowledge about the legal and documentary requirements of labor law, especially on aspects of "substantive and procedural due process" and "substantial evidence" in the discipline and termination of employees; 
• To improve their skills in instilling and maintaining effective progressive discipline in the workplace or worksite; while at the same time avoiding, if not, minimizing costly and time-consuming illegal dismissal cases;
• To appreciate the different scenarios that can result from a protracted labor dispute: winlose, lose-win, lose-lose, and win-win; thereby encouraging strategic, creative and practical thinking in handling and dealing with workers and their representatives (or unions).
• to understand and apply the pro-active "Labor Law Made Easy" approach and "WIN-WIN" strategy in dealing with labor concerns, issues and disputes; and appreciate their multidimensional nature, building on a solid legal foundation and framework as well as on the ancient wisdom of Sun Tzu, the legendary general and author of the classic The Art of War.
_________________________________
Webinar Outline
Module 1: WIN-WIN Labor Relations Strategies PART 1
Module 2: The Law on Termination PART 1 (Just Cause)
Module 3: The Law on Termination PART 2(Progressive Discipline)
Module 4: The Law on Termination PART 3 (Authorized Cause)
Module 5: WIN-WIN Labor Relations Strategies PART 2
Event Information
---
Date and Time
Wed May 26, 2021 | 10:00 AM - 05:00 PM
location
---
More Events from this Organizer