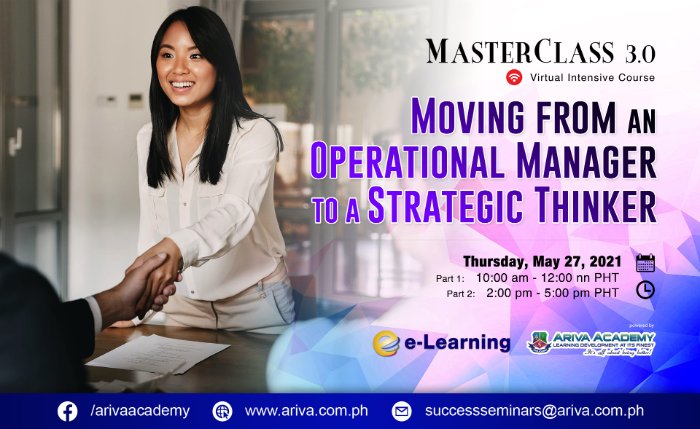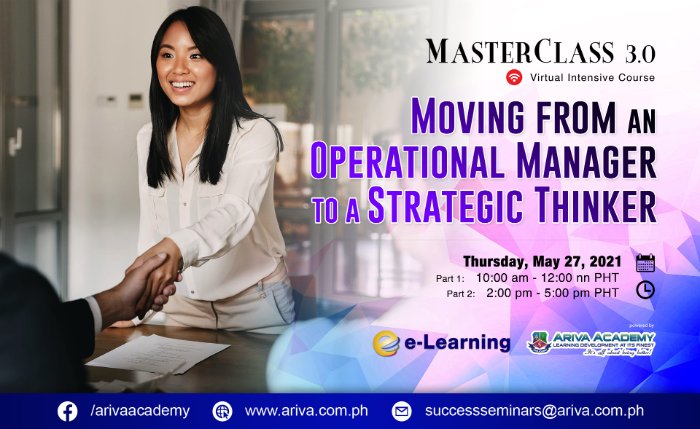 Thu May 27, 2021
4th Moving from Operational Manager to Strategic Thinker
Philippines
By: ARIVA Academy Philippines, Inc.
EVENT DESCRIPTION
Being operationally adept or focused is not enough in today's rapidly changing and dynamic business environment. Anyone involved in the technical side of a business needs to understand as well the manner of thinking strategically. Thinking and having a paradigm towards being strategic means that the bigger picture is seen as well as the question about how to ensure that what was planned is actually implemented.
It also prevents making mistakes and being more quality conscious.
Strategy and strategic planning are the activities that enable people to create the successful team, department and eventually – organization of the future. There would never be enough resources, enough budgets and other required support. This is the reality in many organizations. Nonetheless, ?the need to still achieve the goals or objectives does not change. 
Thus a paradigm of "strategic" thinking is critical to have.

MasterClass 3.0
4th Moving from Operational Manager to Strategic Thinker
Thursday, May 27, 2021
10:00 AM – 12:00 NN PHT
2:00 PM – 5:00 PM PHT
?REGISTER NOW! CALL US!
8832-9901 | 8835-9354
(Globe/Viber) 0917-3257870
(Smart) 0919-6142598
BUY TICKET: https://www.ariva.com.ph/reservation-operational-manager-to-strategic-thinker/
View the complete details: https://www.ariva.com.ph/2021-e-learning-operational-manager/
_________________________________
Webinar Descrption
This specialized and customized learning session is then designed towards:
• coping with continuous development of the business environment;
• securing competitive performance through effective analysis and planning;
• building a mindset of resourcefulness and
• managing implementation from a strategic mindset.
Selected topics would focus on learning how to apply leading-edge thinking in strategic, Evaluating the choices faced by any companies in developing the future, harmonizing operational/technical side with strategic approaches. Designing linkages would also be included towards better appreciation.
_________________________________
Webinar Objectives
The specific objectives of this unique fun-filled learning experience are:
• To understand the uniqueness between Strategic thinking with Operations thinking.
• To leverage the value of Strategic Thinking with Strategic Planning.
• To internalize the framework of a Strategic discipline to prevent gaps and issues.
• To analyze options and make robust choices in initiatives and actions that will result towards achievement of objectives and goals.
_________________________________
Key Benefits
Key benefits from attending this learning masterclass:
By attending this learning session your organization will be able to:
• Better decision-making and time / resource allocation – leading to improved organizational performance
• Introduction of strategic thinking into all levels of the organization
• Top management having more confidence in the decisions of its staff
• An improved approach to planning at strategic and operational levels
By attending this learning session your participants will be able to:
• Improved career flexibility and prospects
• Accelerated thinking speed and problem resolution
• Detailed understanding of the strategic impact of individual specialisms
• Improved leadership and team working capabilities
_________________________________
Webinar Outline
Session 1: Essence of Being Operationally Productive
Session 2: Essence of Being Strategically Productive
Session 3: Challenges and Bottlenecks of These Disciplines
Session 4: Creating Fusion in These Disciplines
Session 5: Paradigm of Strategic State in the Individual
Session 6: Main Frameworks for Strategic Analysis
Session 7: External Analysis – Understand and Assess External Factors Challenges
Session 8: Internal Analysis – Understand and Assess External Factors Challenges
Session 9: Diagnosing and Analysis of Strategic and Operational Risks 
Session 10: Fusion of Analysis into Strategic Choices
 
Event Information
---
Date and Time
Thu May 27, 2021 | 10:00 AM - 05:00 PM
location
---
More Events from this Organizer