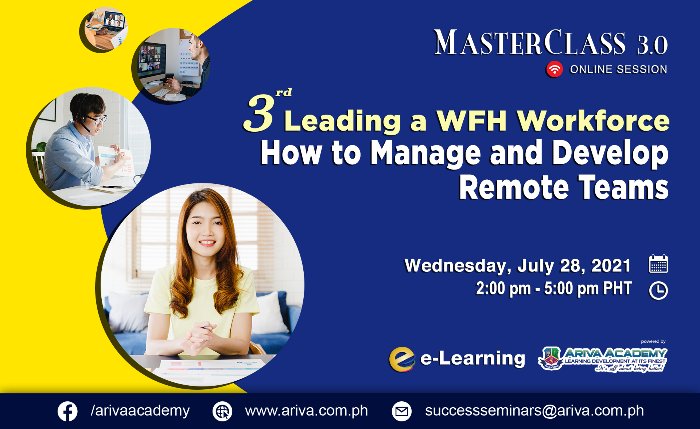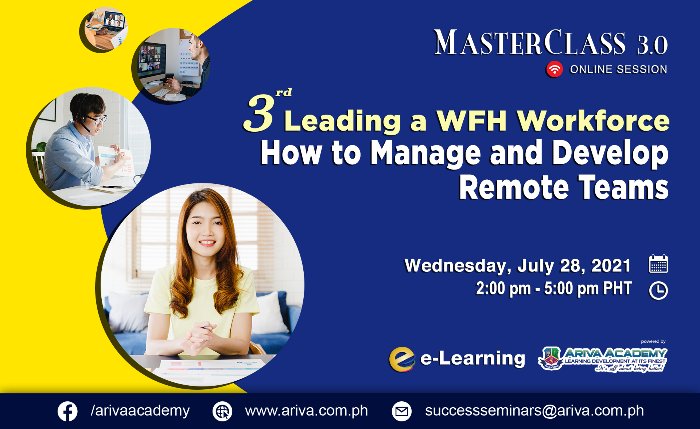 Wed Jul 28, 2021
3rd Leading a WFH Workforce: How to Manage and Develop Remote Teams
Metro Manila
By: ARIVA Academy Philippines, Inc.
EVENT DESCRIPTION
3rd Leading a WFH Workforce: How to Manage and Develop Remote Teams
Speaker:Jonathan Yabut
Founder and Managing Director, JY Consultancy & Ventures
Season 1 Winner of The Apprentice Asia
Asia's World-widest Motivational & Marketing Speaker
Asia's Millennial Guru
Partner Speaker, ARIVA Speakers Bureau
BUY TICKET: https://www.ariva.com.ph/reservation-3rd-wfh-workforce/
View the complete details: https://www.ariva.com.ph/2021-e-learning-wfh-workforce/
_________________________________
Webinar Description:
Summary: The covid-19 situation will change employees' styles of communication and collaboration in the next few months. Videoconferencing and remote working will become a norm. If you are an employee who plans to expand your role and position to the next level, how do you keep up with this change? How do you make sure your success is not sidelined by remote communication?
In this online session, Jonathan Yabut (The Apprentice Asia Winner), shares best practices in remote working. As a managing director of a consultancy firm that thrives through its remote employees for the past 5 years, he will share tactics and stories on how aspiring workers can continue making their presence and impact felt in today's challenging times. 
_________________________________
Key Learning Points of this Webinar:
• ?Understand the Dynamics and politics behind WFH arrangements
• Improve how your presence is felt by your team despite absence of F2F (face-to-face) interaction
• Map out a remote communication plan for your stakeholders
 
Event Information
---
Date and Time
Wed Jul 28, 2021 | 02:00 PM - 05:00 PM
location
---
More Events from this Organizer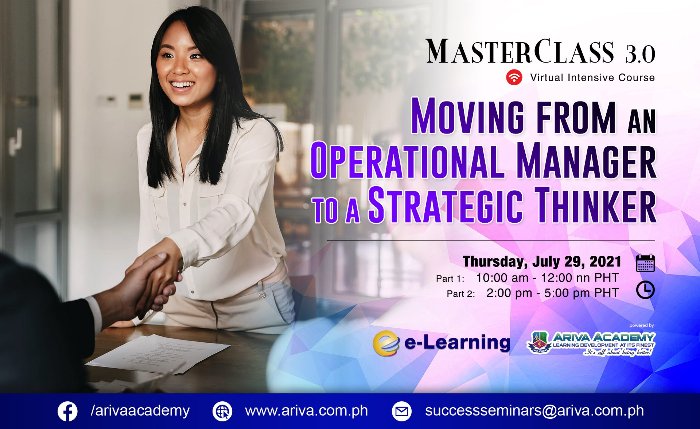 AMOUNT: PHP3998 - 7998
DATE: Thu Jul 29, 2021
TIME: 10:00 AM - 05:00 PM
LOCATION: